AVI is a popular format for audio and video files. But are you in a fix because you are unable to play your favorite movie in Windows Media Player (WMP)? Is it flashing a 0xc00d5212 troubleshooting error? If it does, you are on the right path. Usually, this error happens with AVI file formats, and there are several reasons behind its occurrence. The common one is a missing codec. In this guide, we'll share with you some hands-on tips to fix the 0xc00d5212 error and how you can avoid it.
Part 1: 0xc00d5212 Overview
If you are facing this item was encoded in a format 0xc00d5212 error, there are various reasons behind it. While playing video files on WMP or any other player, this error usually crops up on Windows 10 and prevents them from playing properly.
Why You Get the Missing Error Codec 0xc00d5212?
The possible reasons behind the missing codec error include:
Corrupt Media File

A corrupt video file just won't play or not play properly. If you keep getting a missing codec error while trying to play an AVI file, then it's probably because it is corrupt.

Damaged System Files

An abrupt shutdown, incomplete installation, and or uninstallation can cause damage to system files. This can also result in the error 0xc00d5212.

Outdated Drivers

If your display driver is outdated, it cannot keep the connection between the video graphics card and the display. Hence, it can result in a missing codec error.

Incorrect Codec

If the media player is incompatible with the video codec, it will display a 0xc00d5212 error. Also, this error will occur if you try to play MKV, AVU, or MOV file formats on a player that only plays AVI files.
Why is 0xc00d5212 Error Related to AVI Format Files?
A codec is software that compresses or decompresses a video or audio file. Typically, AVI files are encoded with video codecs. But if the codec is missing or incompatible with the media player, the 0xc00d5212 error will appear in AVI file format. The media file will be corrupted and won't open or play.
Part 2: How to Fix Missing Codec 0xc00d5212 Error?
If you've learned the reasons behind the error 0xc00d5212 codec, Windows 10, you can move to the next step, fixing this issue. Here are some helpful tips to resolve this problem:
Fix 1: Install the Missing Codecs
Codecs are essential to play AVI files. Hence, if they are missing from WMP, you first need to download and install them. 
Step 1: Open Windows Media Player. Then head to Tools > Options.
Step 2: Choose the Player tab, and under Automatic Updates, select the Once a week or Once a day option. And then press OK and close the window.
Step 3: Right-click your AVI video or audio file and select Open with Windows Media Player. If a prompt pops up asking you to install codecs, choose Install.
Fix 2:Convert AVI to Another File Format
You can easily convert your AVI file to another format that will play on WMP without hassle. Choose any good online video converter and load the AVI file that refuses to play. Then change the video formate that you want to conver and click on the convert button to start conversion.
Fix 3: Update the Display Drivers
If your display driver is not updated, you may face the 0xc00d5212 codec error. Here's how you can update it:
Step 1: Press Windows and R keys together to open Run. Then type devmgmt.msc and press OK to launch Device Manager.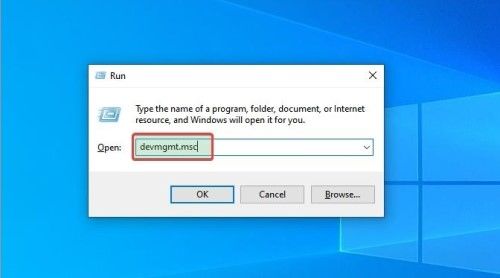 Step 2: Click on Display Adapters to expand it.
Step 3: Right-click on Graphics Adapter. You can also view the driver's details in the next window by selecting Properties.
Step 4: Select Update Driver Software.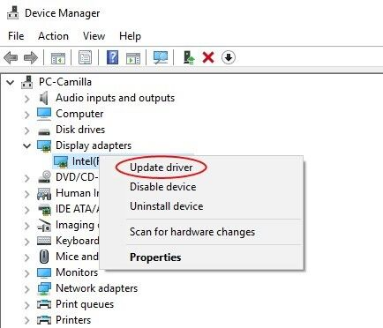 Step 5: From the pop-up window, select Search automatically for updated driver software.
After all the drivers are updated, you can play your AVI file.
Fix 4: Install the Display Driver Again
If you cannot play the AVI file after updating the driver, try uninstalling and installing the driver.
Step 1: Use the same steps in Fix 3 to open Device Manager and right-click on Display Adapters to select Uninstall.
Step 2: Check Delete the driver software for this device and press OK.
Step 3: Download another display driver from the manufacturer's site.
Step 4: Install it once again and restart your computer. Play the video file.
Fix 5: Remove the Audio Drivers
If your system is using multiple audio drivers and they are conflicting with it, you may get a 0xc00d5212 missing codec error while playing video files. Here's how you can fix it:
Step 1: Open Device Manager by using steps in Fix 3.
Step 2: Select Sound, video, and game controllers to expand it.
Step 3: Right-click on the installed audio driver and choose Uninstall.
Restart the computer. Play the video file again.
Fix 6: Repair the Corrupt Videos
You can fix the missing codec 0xc00d5212 issue by repairing corrupted video files with the help of a professional repair tool. Tenorshare 4DDiG data recovery software can fulfill all requirements of repairing broken, corrupted, and encrypted files. With the help of its in-depth scan, it can locate severely damaged files and repair them in just three clicks. 4DDiG features include:
Advanced algorithm to quickly search and find corrupted, encrypted, or broken files.
Can repair over 1000 file formats, including RAW files.
Repair files from internal & external drives, SD cards, USBs, and cameras.
Preview target files before repairing.
Repair formatted crashed or corrupted files due to a virus attack.
Here are the steps that you can take to eradicate the 0xc00d5212 issue by repairing AVI videos with 4DDiG:
Download and install the 4DDiG tool. Choose Advanced Options > Video Repair.
Add corrupted or broken videos and select Repair to start the scan. And 4DDiG will begin searching and repairing corrupted videos. 
You can pause or stop the scan to preview repaired files. Once the video files are repaired, click on Export to save them in a safe location.
Fix 7: Update your Windows OS
A 0xc00d5212 missing codec error also happens if you haven't updated your Operating System in a long time. Follow these steps for windows update:
Step 1: Press W + I keys to launch Windows Settings. To check for new updates, select Update & Security > Check for updates.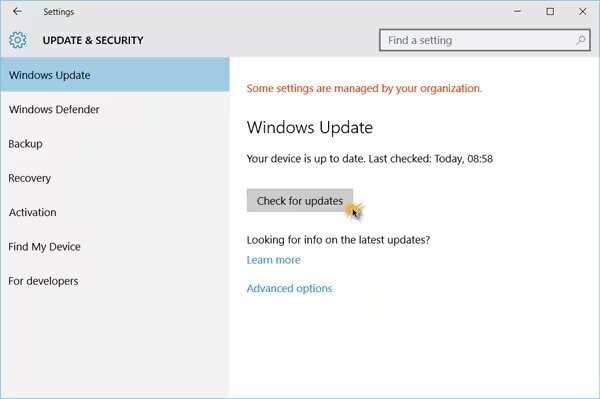 Download the latest updates and restart your computer.
Fix 8: Use VLC to Play the AVI Videos
The VLC media player can support more file formats and codecs than WMP. You can install VLC by following these steps:
Step 1: Go to the official VLC website and download the VLC media player. Download and install the app.
Step 2: Right-click on the AVI file and select Open with > VLC media player.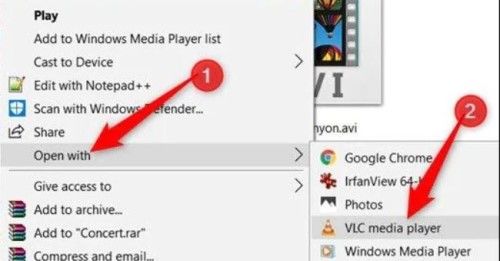 Fix 9: Check your System Registries
A 0xc00d5212 troubleshooting error can also occur due to issues in system registries. An excellent way to resolve this issue is to download and install a good registry fixer and run it to clear registry problems.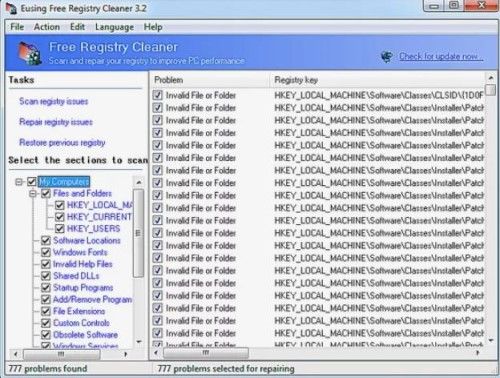 Fix 10: Run System Restore
You can restore your system to a previous point before the missing codec error issue. 
Step 1: Press the Windows key and type System Restore. Press Enter.
Step 2: Select Create a restore point.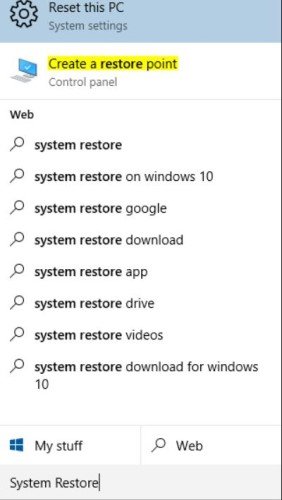 Step 3: From the System Protection tab, select System Restore.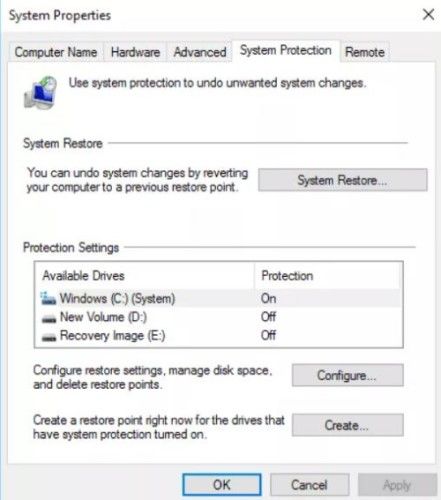 Step 4: Head to Next > Restore Point.
Step 5: Confirm the location where you want to restore and press Finish. Your computer will restart.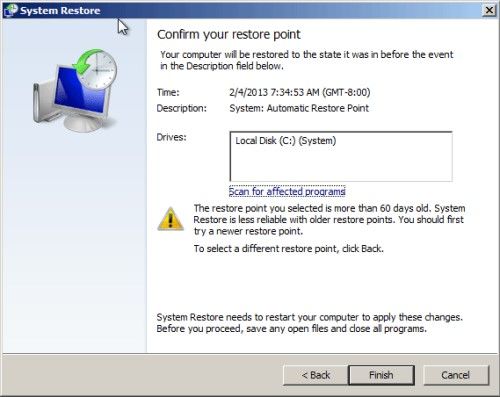 Part 3: Tips to Avoid 0xc00d5212 Error 
The solutions we have shared above will surely fix the 0xc00d5212 error. But you can take some precautions to avoid this issue altogether.
Do not change the video formats frequently. If you want to do so, use a reliable tool to convert the format.
Always keep a backup of your files. In case the missing codec issue happens, you can restore the files.
Install antivirus software so your video files won't get corrupted if a virus attack occurs.
Only play a video in a media player that supports its format.
Conclusion
If your Windows Media Player shows this 0xc00d5212 troubleshooting error, it's probably because of a missing codec. This error will occur if your AVI video or audio file is corrupted or broken. Check our guide above to resolve this issue with practical solutions. If the above methods won't work, there is a way you can repair the corrupted AVI video files. We recommend using a professional data recovery tool like Tenorshare 4DDiG to repair corrupted and broken video files with 100% correctness. Regardless of how severely damaged your video file will be, it can repair in just three precise and quick steps.