When trying to play files from a USB drive or other external device or DVD, several Windows users have reported getting the 0xc00d36c4 issue and they videos won't play anymore. So, how are they going to remedy the video not playing issue? Continue reading to learn about the causes and, more importantly, solutions.
Part 1: What is Video Can't Play Error 0xc00d36c4?
In most cases, the problem is caused by an incompatible file format or codec. If you do meet this error, don't pannic, cause we are here to help you fix the video can't play error. This error code is linked with the use of MP4 files. When a user tries to open an MP4 video or movie, the user sees the error 0xc00d36c4 on the screen instead of the file playing. The issue typically occurs after a Windows installation or when playing video from a DVD or USB Flash Drive are example of storage medium. So, let's start with summarized the causes first.
The reasons for error code 0xc00d36c4:
Popular video formats are not supported by the Media Player
The file you're attempting to play has become corrupted for some reason
There could be a problem with the codecs
The wrong file extension is being utilized
Windows Media Player has Copy Protection turned on
Incompatible or obsolete drivers/controllers are being used
A virus has infected your computer or an external storage device
Part 2: Possible Solutions to Fix 0xc00d36c4 Video Can't Play Error
This error is usually caused by an unsupported file format or codec. As a result, the most common workarounds are to convert the file to a compatible format or to install the supporting codec. If both approaches fail to cure the problem, the video file may have become corrupt and requires repair.
important:
To repair corrupted videos you can free try
4DDiG Video Repair
software which allows you repair corrupted/lost/deleted videos in 3 clicks.
Fix 1. Play the Video in Another Media Player.
If your current media player is unable to play the video file, try another like VLC Media Player, QuickTime, Windows Media Player, and so on. You can choose any of them depending on which one can play the video. Just download and install the tool on your computer, and use the new media player to play the issue video file.
Fix 2: Install the Compatible Codecs of the Video File Format
Codecs are applications that encode and decode video files in order for them to be compatible with the system and run. When playing MP4 files with an incompatible media player, you will almost certainly see this error. For example, Windows Media Player (excluding WMV 12) does not support playing MP4 files and will likely give you an error if you attempt. To fix this, you'll need to install the necessary codec packs on your computer.
Step 1: You can use software to help you download missing codecs automatically, here take an example of using videoinspector, launch it on your PC, then open the video files
Step 2: Here you can see the download button goes with each video files, just click on it and it will help you install the miss codecs.
You should have no problems playing MP4 files or any other video format with your media player once you've installed the appropriate codecs.
Fix 3: Transform the Video File Format
If the existing file format is not supported by the media player, try converting it to another format that is. To convert your media files to supported formats, use a safe and dependable converter. You can convert your MP4 video file to another file format using online converters or VLC Media Player.
Step 1: Just open the video using the tool you trust, and go to "Convert" button.
Step 2: After converting, re-play the issue videos, and the error code shouldn't show up again.
Fix 4: Turn OFF Copy Protection Feature in Windows Media Player
The issue could be caused by Windows Media Player's Copy Protection function. In the default settings, it is responsible for securing the media files it burns. As a result, removing the capability may assist in resolving the issue. The detailed instructions included:
Step 1: On your computer, open Windows Media player.
Step 2: On the top-left corner of window, select Organize tab.
Step 3: Go to the drop-down menu and select Options.
Step 4: Simply uncheck the option 'Copy Protect Music' in the Rip Music menu.
Step 5: Click the OK button to save your changes.
Use an external device to play MP4 videos and movies. Hopefully, the 0xc00d36c4 error code will not appear again!
Fix 5: Remove All USB Controllers and Re-install Them
Conflicts between external devices linked to the system and the system itself can cause this error to appear. This can be resolved by re-installing the USB Controllers on your computer. Ensure that all driver updates are completed on time. This problem could also be caused by hardware conflicts. As a result, users can use the system Device Manager to update the installed drivers.
Step 1: Press Win + X to open "Device Manager".
Step 2: Now scroll down to "Universal Serial Bus Controllers", right-click on each usb device and choose "Uninstall device".
Step 3: At last, restart your PC, and the usb controllers should be reinstalled.
Now reconnect your USB to your PC and play the issue video, and the video can't play 0xc00d36c4 error should be fixed. If this error is still not fixed, then go to the next method.
Fix 6: Update the Display Drivers
The MP4 video error number 0xc00d36c4 is frequently caused by hardware and software problems. We recommend that customers update the necessary graphics and display drivers to guarantee that device drivers are not at fault. Installing the latest and most suitable drivers for your Windows PC can be done in a number of ways. However, we advocate utilizing a professional driver updater application to get the drivers without hassle.
Step 1: Go to Device Manager, select your device.
Step 2: Choose "Update Driver Software" , and then go to "Search Automatically for Updated Driver Software".
Fix 7: Use 4DDiG File Repair to Repair the Video
The 0xc00d36c4 error might cause by video corruption. In this situation, you just need to fix the corrupted video and then the video can't play error will be fixed. To recover corrupted video, we recommend you use the professional corrupted video recovery software- 4DDiG Video Repair software. Within 3 clicks and you can recover the corrupted video yourself.
Why you should free try 4DDiG Video Repair:
Support Windows PC and all storage media such as SD cards, USB flash drives, HDDs, etc.
Support popular camera brands, such as Canon, GoPro, and DJI.
Repair polular video formats including MP4, MOV, MKV, M4V, 3G2, 3GP, etc.
Support for batch repair in various formats at one go.
How to repair the corrupted video:
Launch 4DDiG File Repair on your PC, then choose the "Video Repair" on the left side of the interface and click Fix Video Errors.
Click to add the corrupted video and then go to "Start Repair".
After repairing, you can preview the recovered video. If it is what you want, then go to "Export" and save the repaired video on a safe location.
Now play the recovered video again and check whether the video can't play error has been fixed.
Fix 8: Use VLC Media Player AVI Repair Feature
If the above methods didn't work, now try to use AVI repair feature to fix the 0xc00d36c4 error. Simply install the VLC media player on your machine to solve the missing or broken AVI index. When you play the damaged AVI video in VLC, you'll get a warning saying that VLC won't fix or repair it, but it will temporarily fix it by constructing index information in its program memory. The option to Build Index Then Play will then fix the index issue with your AVI file.

Step 1: Copy the original video and rename it to AVI, then launch VLC Player on your PC.
Step 2: Go to "Tool". From the drop-down list, select "Preferences" >"Input or Codecs".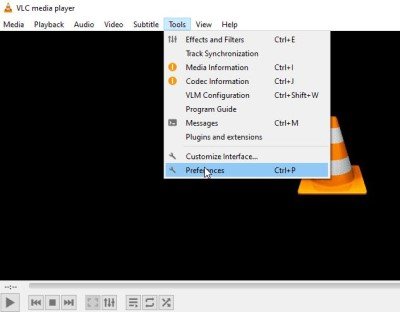 Step 3: Now select "Always fix", and then click on Save.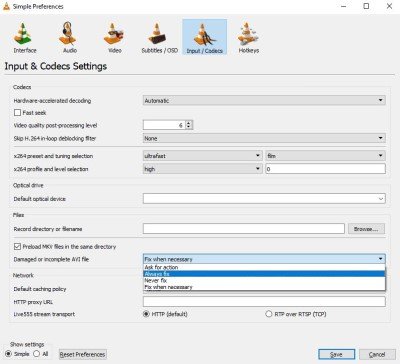 Now check whether the video can't play error is solved.
Fix 9: Move the Video to Another Location
Another simple approach is to copy the unplayable media files from your external storage device to the computer's internal hard disc, a USB drive or DVD. This procedure is both quick and secure.
Step 1: Choose the files on your external hard drive, then press Ctrl + C.
Step 2: Paste the files on your internal device with Ctrl + V.
Now open the media files, if it still can't play smoothly, the video files might be corrupted, just move to fix 7 and launch 4DDiG Video Repair on your PC to repair the corrupted video files.
Part 3: People Also Search
1.Can we Fix the Corrupted Video?
Yes, using the professional video repair software- 4DDiG File Repair or any reputable third-party vendor/website, you may effectively repair corrupted videos. Make sure your device has a diverse media player that can play a variety of file formats so you can effortlessly watch videos or movies.
2. What is the Best Video Recovery Software in 2023?
There are many solutions on the market that are specifically designed for video recovery. 4DDiG File Repair software is your second to none choice to recover corrupted/deleted/formatted/lost videos.
Conclusion
The error 0xc00d36c4 that appears when you try to play MP4 video files is caused by file corruption or an unsupported codec, as shown above.You can also convert the video to a different format. Or try to open it on another tool. If the problem persists, the video might be corrupted, and a video repair tool like 4DDiG Video Repair will be useful.