How to Solve Drive Is Not Accessible in Windows

"How do I resolve this message: "D:\ is not accessible. Access is denied."?"
The "Drive is not accessible" error is indeed frustrating, especially when you urgently want to view a document. It can happen due to lots of things, but the great news is- You can fix the problem easily with the methods discussed in this article. That's not it. As a bonus, you will also learn how you can avoid losing your important data here as well. So, continue reading!
Part 1: Why Does It Say D :\ Drive Is Not Accessible?
When D Drive is not accessible, it simply means the Windows system is facing problems accessing the drive. However, knowing about the cause of this issue is critical, as it gives you an idea about what you did wrong and allows you to avoid this problem in the future. Well, the "Drive not accessible" error can be caused by a number of reasons, which are:
Corrupted file system.
Viruses or malware.
The hard drive is damaged.
Device drivers are not updated.
You don't have the necessary permissions to access the drive.
As discussed above, you can fix D drive inaccessibility easily. But first, it is crucial to know how you can save the drive's files from being lost. It is because the fixing solutions can format the drive, which can lead to permanent data loss.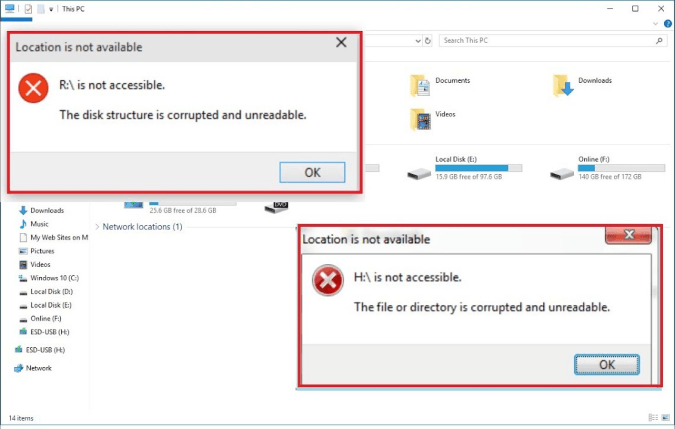 Part 2: [Quick Tip] Recover Files from Inaccessible Drives via 4DDiG Windows Data Recovery
Whenever you try to fix the "Drive not accessible" error, there is always a risk of data being lost. Therefore, it is super important you first retrieve the important files before you dive into fixing the problem. However, choosing the wrong recovery software can cause further problems for you.
Fortunately, there is software that can restore all of your data easily and quickly. It's 4DDiG Windows Data Recovery. The reason it's better than other recovery tools is that it supports more than 1000 file types, including emails, documents, audio, etc. It offers two recovery options- Quick scan and deep scan, and both don't take more than a few minutes.
Recover data from inaccessible drives, laptop/PC, USB flash disk, SD card,etc.
All-in-One Solution to Perform Data Recovery and Repair for All Scenarios
Recover files lost due to accidental deletion, formatting, lost partition, corruption, crashed system, virus-attack, and so on.
Recover 1000+ file types including photos, videos, documents, and audio.
Launch 4DDiG Windows Data Recovery, select the inaccessible drive you want to scan and click scan

4DDiG will soon examine the selected drive all around for missing data. You can search for target files that tou cannot find or use Filter to narrow down your search on the right side of the panel.

When the program finds the target files, you can preview and recover them to a secure location. Please do not save to the same partition where you lost data, in case of disk overwriting and permanent data loss.
Part 3: How to Fix Drive Is Not Accessible in Windows 11/10
There are four proven ways to fix the "D drive not accessible" error. Try one method, and if it does not work, go for another one.
Way 1: Quick Troubleshoot for to 'Drive is not accessible' Error
When Drive D is not accessible, you should first troubleshoot the error. Windows usually gives you a "Troubleshoot" option after you click on the drive. Accept the system's offer and let it detect and fix the problem for you.
Sometimes, there are little bugs in the system, which can be fixed when you restart the computer. So, click on the Start/Windows icon on the left and choose "Restart." If you see the "Update Windows" option next to the Restart option, then click on it.
Furthermore, using different USB ports is also a good option. If nothing works in this method, try the next one.
Way 2: Fix Drive Is Not Accessible via Properties
In most cases, a D drive error appears when the system does not have the necessary permissions to access the drive. Therefore, after troubleshooting, the next solution we have for you is to go to the properties and change the access settings. Here are the easy steps:
Right-click on the drive and choose the "Properties" option.
Navigate and click on the "Security" tab.
Choose "Advanced."
Click "Change."
Under the "Enter the object name to select," type your user account.
Hit "Check names."
Click "OK."
After that, go to Properties again by right-clicking on the D drive.
Choose Security and Click on "Edit."
Select the user account you added and then check the "Full Control" box.
Hit "Apply" and click on "OK."
Then, restart your computer and see whether you can access the D drive or not. Hopefully, the error will get resolved, and you will be able to see the files.
Way 3: Reassign a Drive Letter to Inaccessible Disk
If changing the Properties settings does not work, then you should try reassigning a drive letter. It is proven to fix the missing driver issues and can also deal with disk inaccessibility. It's simple to do:
Hit "Windows Icon" and "X" at the same time.
Choose "Disk Management."
Navigate and go to Target Hard Disk. Right-click on it.
Choose "Change Drive Letter and Paths."
Select "Add."
Choose "Assign the following drive letter."
Reassign a new drive letter.
Lastly, click "OK."
Then, try again. You will not get access to the D drive this time.
Way 4: Use CMD Command to Solve the 'Drive is Not Accessible' Issue
If you see an additional message "Access is denied" with the "D drive not accessible," it means there are disk errors or data corruption issues. But sometimes, bad sectors can also cause this message to appear. In both cases, running a CMD or CHKDSK (short for "Check Disk") command is the best way to fix the issues. Follow these simple steps:
Go to the search box.
Type "CMD" and hit Enter.
Select Command Prompt.
Choose "Run as Administrator."
Type "chkdsk d: /f" or "chkdsk d: /r." Note that the "d" here is the drive letter.
Click "Enter."
CMD will then detect the issue and try to resolve it. In most cases, it usually takes around two to three minutes to fix the issue if you go for this method. However, if the system takes more time, don't get worried. We also recommend you also restart your computer after running the CMD command.
Part 4: Drive Not Accessible FAQs
Q1: What're the Common Error Messages for Drive Not Accessible
Access is denied.
Data Error Cyclic Redundancy Check
The file or directory is corrupted.
The parameters are incorrect
In some cases, you may also see:
"The drive is not formatted. Do you want to format it now?"
"The disk structure is corrupted and unreadable."
"I/O device error."
Q2: What's the "Drive Is Not Accessible the Parameter is incorrect"
The "drive not the accessible parameter is incorrect" message appears when the system fails to interpret the parameters of the external hard drive (even if it is a USB flash, or a SD card). Also, note that the error usually occurs in Windows 7,8 and 10. The reasons behind "Drive is not accessible the parameter is incorrect" are:
File system corruption.
Driver issues.
Malware attacks
Power failure.
Invalid naming.
Sometimes, plugging/unplugging can damage the external hard drive as well. Also, some accidentally spill water/coffee on it. Remember that if the drive gets damaged, you may also see the "Drive is not accessible, the parameter is incorrect" message.
Therefore, check the external hard drive's condition or repair the corrupt files to resolve the issue.
Concluding Thoughts
All in all, D drive is not accessible because of data corruption, malware, and many other reasons. Luckily, you can fix it by troubleshooting, changing the properties, assigning a drive letter, and using the CMD commands. But before you begin to resolve the error, you should recover the important data from the drive (just to be safe). For this, download 4DDiG Windows Data Recovery, as it can retrieve every type of file in a few minutes only. After you get back all the critical data, you can proceed with the four solutions discussed above. That's all about how to solve the drive that is not accessible in Windows!