How to Recover Deleted Data from USB Flash Drive on Mac?
Is it possible to recover data from flash drive Mac? Yes, download 4DDiG Mac Data Recovery to conduct flash drive recovery Mac effortlessly.

William Bollson
USB flash drive is commonly used to save pictures, videos, spreadsheets, Word Docs, music tracks, and whatever user thinks is worth storing or transferring. Numerous users accepted that it is convenient to store yet easy to lose data on a USB flash drive. In this guide, we'll show you 3 ways to recover data from flash drive Mac.
Missing any data, either files, photos, or videos, can be very disappointing, then the second problem is trying to recover that. So here, we will discuss how to recover data from a Mac flash drive using professional data recovery tool- Tenorshare 4DDiG. First, let's take a look at what causes data loss on the USB flash drive.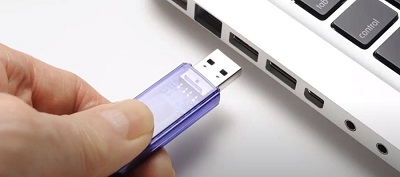 Part 1: What Causes USB Flash Drive Data Loss?
Flash drive recovery Mac is challenging but understanding the root cause behind USB flash drive data loss is more important. 5 main factors contribute to data loss, and one must avoid such things.
Hardware defect
Incorrect shutdown
Human mishandling
Corrupt software
Virus attack
Part 2: Video Tutorial on How to Recover Deleted/Corrupted Files from USB Flash Drive/Pen Drive?
>
Part 3: How to Recover Deleted Data from USB Flash Drive on Mac
You have taken all the precautions; still, you lost data that is also possible, but chances are minimized. Now you have to recover the USB drive mac. Let us help you with that and provide all possible solutions for flash drive recovery Mac.
Solution 1: Check the Mac's Trash Bin
USB flash drive attached to Mac No data is visible, and you are wondering what to do? Please check the trash soon after you realized that you had deleted some of your files from the pen drive by mistake or are not visible for some unknown reason.
Go to Mac Trash Bin.
Find the lost files.
Right click on the file you want to get back.

Press the "Put Back" button. The deleted files from the USB flash drive will get back to their old positions.
Advantages:
Disadvantages:
The quick and easy remedy. A petite resolution for a significant problem.

If you have emptied the trash, it is pretty time-consuming and challenging to recover a USB flash drive Mac, and you might need to get a recovery tool for your data.
Solution 2: Check Other Trash Bins to Recover Files from USB Flash Drive on Mac
Your Mac changes the visibility of your files depending upon which drive is attached to it. Sometimes you cannot see the file, but it might be present invisibly there. Try enabling hidden files to recover the files from USB flash drive Mac.
Enable hidden files.
Go and recheck the trash.

Recover and save your desired files once visible.
Advantages:
Disadvantages:
In Mac with Sierra or later, press Shift + Command +. (Period). It will unhide all files, look for ".Trashes". Open the folder and check for deleted files of your USB flash drive.

This shortcut will not work in a version of MacOS that's older than Sierra.
Solution 3: Use USB Data Recovery Tool
Many people lose hope once they lost the data from a USB flash drive due to less success rate of recovering files from USB flash drive mac. But it is possible to recover deleted files from a USB flash drive Mac even after emptying the Trash bin.
The location where you deleted the file still has the file until you save another file. So stop using the USB flash drive once you realize that some files are missing. The only thing you need right now is a reliable recovery tool like 4DDiG Mac Data Recovery.
This tremendous recovery tool can recover almost every type of data from each Mac device to date, including external devices attached to it like a USB flash drive, aka Pen drive.Tenorshare 4DDiG Mac Data Recovery is the known yet secure software to retrieve all file types, including pictures, video clips, docs and others on USB flash drive mac or external disks.
No tech knowledge is required, and recover data from external hard drive Mac in just 3 steps.
Complete external hard drive recovery Mac including USB, SD Card, digital camera, and more.
100% reliable free recovery tool that securely recovers deleted files on Mac with a high success rate.
Restore USB flash drive Mac easy and fast with 4DDiG.
Check the detailed guide and learn how to recover lost or deleted files on Mac devices in just few steps.
Select a Location

Install 4DDiG Tenorshare recovery tool, then launch the program and attach the USB flash drive to Mac system. Select the location i.e. pend drive then click the "Scan" button to start looking up all lost files from the drive.

Scan and Preview

It takes a while to scan all deleted files in USB flash drive Mac. After the scanning result is generated, you can click on specific file types to preview more detail.

Recover files from external hard drive Mac

Click on Recover and select a new spot to save located files. Do not save the retrieved files to the USB flash drive again as it may cause permanent data loss.
Advantages:
Disadvantages:
It is easy to use, 100 percent authentic, and it recovers almost each and every type of data lost from your Mac devices.

You will need to disable SIP first to allow access to Mac files if you need to recover data from macOS High Sierra and later systems.
Part 4: Tips for Recovering Deleted Files from USB Flash Drive
It is necessary to determine how to stop your USB flash drive or pen drive to keep losing data.
Tip 1. Always Make Backups

Generate backups of your data so that if your USB gets corrupted, you have the files on the cloud. Many users do not like it, but it is worth backing up the data. Do not neglect to back up the data on the USB drives regularly.

Tip 2. Remove Pen Drive Carefully

Carefully expel your USB drive after using it. Safely remove USB without jerk on Mac:

1. Hold the Control key and the mouse pad at once on your Mac.
2. Select "Eject" from the menu. Now eject your USB flash drive safely.

Tip 3: Format the USB Regularly

Formatting your USB drive from time to time will fix any file system errors that can arise surprisingly.

Tip 4: Use a Good Data Recovery Software

Tenorshare 4DDiG is famous to easily and quickly Recover Deleted USB Flash Drive Files on Mac.
Part 5: Frequently Asked Questions about Mac External Hard Drive
1. Can you recover deleted files from flash drive without software on Mac?
Yes, you can. If you have cleared the Trash, you can still recover deleted files from a USB flash drive on Mac without software by backup files, Mac trash folder, and terminal commands.
2. Where do deleted USB files go?
Deleted files do not get permanently deleted but get invisible from your sight. You can quickly get them back with a good recovery tool like 4DDiG.That is why it is recommended not to save the recovered file in the exact location where you lost it that might put you in a position where you could lose the data permanently that cannot get recovered by any means.
3. How can I recover my USB device not recognized?
There are several ways of recovering a USB flash drive not recognized, you can refere to How to Fix USB Not Showing up on Mac?
Conclusion:
USB flash drives and pen drives are extensively employed because they are lovely for saving and transferring data files with associates or partners. They are also acceptable to join an extra storage room to your machine or to separate particular data. But if you are worried about USB flash drive mac data loss, you can always turn to 4DDiG Mac Data Recovery.
It is a safe and free-of-cost method that restores lost data from your USB flash drive in some clicks, including your lost photos, videos, records, documented files, and other file varieties. This superb benefit recovers removed data from external hard drives on Mac.
You May Also Like
Home >>
USB Recovery >>
How to Recover Deleted Data from USB Flash Drive on Mac?