Blink cameras provide a convenient way to protect your home and office. With Blink cloud, you can view, save and share videos on the Blink app. However, sometimes the videos get deleted or lost due to many reasons. But how to recover deleted blink videos? Don't worry, check this article out and this guide will teach you the causes of data loss and how to recover deleted blink videos.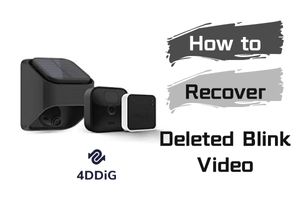 Part 1: Where are Blink Videos Saved/Stored?
The Blink camera saves the videos on a cloud server for 60 days, after which they are automatically deleted. However, users have a choice to store videos on local storage, such as a USB, depending on the camera model. They can also download the videos from the Blink app. 
Part 2: Can I Recover A Deleted Blink Video?
The default configurations save the videos for 30 days on the cloud storage and are permanently deleted after 60 days. Once a video is deleted from the cloud server, it can no longer be recovered. Even the Customer Support of Blink has no access to deleted videos. However, if you have stored the video on local storage and it is deleted, you can recover deleted blink video. But you'll have to create a manual backup for video clips.
Part 3: How to Recover Deleted Blink Video in 3 Steps?
If you have a manual backup for Blink videos on a USB drive, but the data gets lost or corrupted, you can restore it with a recovery tool. Tenorshare 4DDiG data recovery software can help in that regard by recovering lost, deleted, corrupted, or formatted videos, audio, images, and document files. It has a simple and intuitive interface that even a beginner can use to retrieve Blink videos. 4DDiG features include: 
It is capable to recover over 1000+ different file types.
It can recover files from internal and external drives, BitLocker drives, recycle bin, USBs, and digital cameras. 
It can recover hidden or lost files due to virus attack, accidental deletion, system crash, or lost partition.
It supports both Windows and Mac operating systems.
Follow the steps below to recover deleted Blink camera videos with 4DDiG:
Install and launch 4DDiG on your PC or Mac. Connect the camera devices card to your computer. Choose the external devices where your deleted blink video users to store and click Start to process.
Wait for 4DDiG to start scanning your chosen location, and then it will list out all the scanned out videos, you can preview both of them.
After previewing, choose the one that you want to recover and clik on recover, them your deleted blink video will be recovery successfully.

Once 4DDiG has recovered deleted Blink videos, save them to a safe location. Remember to export files to a location other than where you've lost them.
Part 4: What Causes Blink Clip Backup Fail and How to Make Clip Backup?
What Causes Blink Clip Backup Fail?
There are many reasons behind the failure of Blink clip backup. They include:
The USB drive is not recognized as Sync Module. So check the status of the USB from the Blink app. The icon should be green, and the USB device should be recognized as Sync Module 2. 
If your WiFi connection is unstable, your Blink video backup won't be complete. Frequent internet disconnection could also cause your backup to go corrupt.
Blink camera requires at least 380 MB of storage space to create a backup. If your USB storage is full, it won't be able to create a backup.
The backup is updated after a full day. If you are trying to find the latest Blink videos, it is possible that they haven't backed up yet. So check the time and date of the newest update.
How to Make Clip Backup?
You can use the local storage feature to make a Blink video backup on a USB device. This doesn't require Blink Subscription, and the storage will automatically store the Blink videos. Moreover, you can access the video files through the Blink app. Just make sure to insert the USB into the Sync Module 2 port.
FAQs:
How Do I Restore A Permanently Deleted Video?
If your Blink clips are permanently deleted, and you think, how can I recover a deleted blink video? It's not possible to recover them. Blink cloud server stores videos for 30 days that you can extend to 60 days.  After this period, they are automatically and permanently deleted from the server. So, you must have a backup on a USB device to restore deleted Blink videos. Or you can try Tenorshare 4DDiG data recovery software to help too.
Can A Deleted Video Be Retrieved?
If you think you have a Blink camera, can I recover deleted video? Yes, it's possible to retrieve deleted videos. But you can recover them only if they are not permanently deleted from the cloud server. If you've stored them on a USB storage and they are deleted, you can retrieve them through the help of a recovery tool like Tenorshare 4DDiG. It can recover lost, deleted, corrupted, formatted, or hidden video files with a high success rate. 
How Do I Get Old Footage On Blink?
The videos stay on the Blink cloud server for 60 days, so you can easily view old footage in that duration. The recycle window is short, so you can access your old footage if you contact customer support during that time. You need to give your Blink camera's ID, and account details to customer support as the old videos disappear from the cloud server. But you must have a stable internet connection, and your camera must be armed at that time to capture videos. Otherwise, you won't have any old videos to recover. 
Does Blink Delete Recordings?
The Blink app has auto-delete settings, meaning that clips older than 60 days will be permanently deleted from your Blink account and cloud server. The time limit can be set differently, but not less than three days. 
How Long Are Blink Videos Saved?
The Blink Subscription Plan allows you to save video clips for a minimum of seven days to a maximum of 60 days by default. After the 60 days limit, the video clips will be automatically and permanently deleted. 
Conclusion
Blink camera provides excellent security for both homes and offices. It allows the user to save data on a cloud server or a USB device for a maximum time limit of 60 days. After this duration, the Blink videos get permanently deleted, and you cannot recover them. However, if you store the files on a USB device, you can easily recover Blink videos. Hopefully, our guide is able to answer your how to recover deleted Blink videos query. You can restore Blink videos files with our without a backup. For quick retrieval in just three steps, consider using a data recovery tool like Tenorshare 4DDiG data recovery software. It can recover over 1000 types of lost, deleted, hidden, formatted, and corrupted files with a 100% success rate. 4DDiG can not only retrieve Blink video files but can also repair them if damaged. Its advanced search algorithm and deep scanning ensure the recovery of even the most hidden or broken files.