Picture a scenario where you find yourself in possession of crucial data on your laptop or desktop, only to realize that you have accidentally formatted your hard drive during an installation process. None of us would ever wish to encounter such a situation. Consequently, our primary concern would naturally be how to recover data from formatted hard drive.In this article, we will guide you through the steps to accomplish this task. So, without further ado, let's explore the solutions at hand and dive deeper into the process.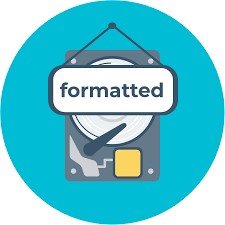 Part 1: What Happens to Your Hard Drive Files When They are Formatted?
When you format your hard drive, a series of significant changes occur that directly affect the files stored on it. Understanding what happens to your hard drive files during the formatting process can provide valuable insights into the data recovery process.
Firstly, formatting erases the file system metadata, such as the master file table (MFT) or file allocation table (FAT). This metadata holds vital information about file organization. Without it, the operating system loses knowledge of file locations and accessibility.
Additionally, formatting involves overwriting the existing file allocation table with a new, empty one. This action effectively marks the entire hard drive as available space for new data to be written. However, the actual data stored on the drive remains intact until it is overwritten by new information. This means that the formatted files are still present on the hard drive but are no longer accessible through the usual file system.
important: If you accidentally formatted a drive and you wish to recover data from, you should stop using the drive immediately. This prevents the system from overwriting sectors that may contain the data you intend to recover. To maximize the chances of successfully restoring all your files, it is recommended to initiate the recovery process as soon as possible.
Part 2: Can I Recover Files from the Formatted Hard Drive?
In short, the answer is yes. Although formatting makes the files inaccessible through the usual file system, the actual data remains on the hard drive until overwritten by new data. This means that there is a possibility to recover files from a formatted hard drive, especially if the formatting process was quick or if minimal data overwriting has occurred. However, successful file recovery from a formatted hard drive depends on various factors, including the formatting method used, the extent of data overwriting, and the effectiveness of data recovery tools or services employed. To maximize the chances of recovering your files from the formatted hard drive, it is important to stop using the formatted hard drive immediately and seek professional data recovery software like Tenorshare 4DDiG.
Part 3: How to Recover Data from Formatted Hard Drive on Windows & Mac?
If you're seeking an effective solution to retrieve your valuable files from a formatted hard drive, look no further than Tenorshare 4DDiG. Renowned for its security and reliability, Tenorshare 4DDiG is a leading data recovery software designed to retrieve lost data from a wide range of sources including Windows, Mac, USB drives, SD cards, external devices, and digital cameras. Whether your files were accidentally deleted from the recycle bin or lost due to hard drive formatting, 4DDiG helps you recover what was once seemingly lost.
Let's explore some of the main features of 4DDiG that make it a trusted choice for data recovery:
Wide Device Compatibility: Easily recover data from laptop/PC, external and internal drives, USB flash drives, SD cards, and more.
Extensive File Type Support: 4DDiG supports 1000+ file types, including photos, videos, documents, and audio.
Comprehensive Data Loss Recovery: Recover files lost due to accidental deletion, formatting, partition loss, corruption, system crashes, virus attacks, and more.
Now, let's walk through how to reover data from formatted hard drive in three easy steps using Tenorshare 4DDiG.
Select Target Drive and Begin Scan:

Launch 4DDiG Data Recovery and choose the target drive from the list. Click "Scan" to initiate the scanning process.

Select Target Drive and Begin Scan:

4DDiG presents a categorized view of the recovered files, including Deleted Files, Existing Files, Lost Location, RAW Files, and Tag Files. You can also use the File View option to browse files by specific types such as Photo, Video, Document, Audio, Email, and more. You can pause or stop the scan once you find the desired files.

Preview and Recover Files:

After the scan completes, preview the recoverable files and select the ones you want to retrieve. Remember to save the recovered files to a different location to avoid overwriting the original data.

Video Guide on How To Recover Files From Formatted Hard Drive
Part 4: How to Safely Format Hard Drive without Lossing Data
After you've successfully recover data from formatted hard drive, let's explore some valuable tips and techniques to safetly formatted hard drive without lossing data. By following these tips, you can ensure a smooth formatting process while safeguarding your important files.
Tip 1: Safely Format Hard Drive with Windows Explorer
Step 1: Click on "My Computer"icon.
Step 2: Select the drive, you desire to format, then "right-click" on it.
Step 3: Choose "format" from the drop-down list.
Step 4: Once the "format" box appears, you can select the capacity size. You can also set-up the file system.
Step 5: Click on "Start". As you click "start" an alert will appear before you. If you are sure you want to format the drive, you can click on "ok".
Tip 2: Safely Format Hard Disk with Windows Disk Management
Step 1: Click Windows Start, type and run "diskmgmt.msc". Now, click on "My Computer" and then Right-click and choose "Manage" from the drop-down.
Step 2: Then select Disk Management under "Storage".
Step 3: Right-click on the partition you want to format and select "format" from the drop-down.
Step 4: Set the volume label, allocation unit size, and file system. Press "Ok" to start.
Conclusion
In conclusion, recovering data from a formatted hard drive is indeed possible with the right tools and techniques. By following the fixes mentioned in this guide, you can increase your chances of retrieving your valuable data successfully. Remember to use reliable data recovery software like Tenorshare 4DDiG whose effectiveness in safely recovering data has been proved in many Tenorshare 4DDiG reviews. Also, take necessary precautions to safeguard your data in the future. With persistence and the right approach, you can recover your lost files and restore peace of mind.