Imagine having important data on your laptop or desktop during some installation you have just formatted your hard drive. None of us will ever want to face this. So now we must be looking for how to recover data from formatted hard drive? Let's take a deeper look.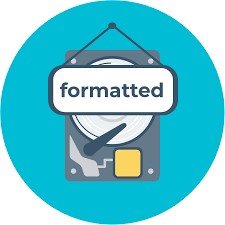 Part 1: What Happens to your Hard Drive Files When they are Formatted
It is always advised to format your hard drive at the time of OS installation. It is because formatting a hard drive is essential as most operating systems have a certain way of communicating with the storage devices. In actual, formatting is nothing but creating new references of the addresses on the hard drive. While making the new address places, OS loses its previous data references hence we cannot access our previous data. Precisely OS loses those pointers that used to point our data on the drive. So if we find a way to relocate our pointers back, we can recover data from formatted hard drive, unless new data is overwritten on the same data sector on the hard drive.
important: If you accidentally formatted a drive you wish to recover data from, you need to stop using the drive immediately. This will avoid the system overwriting sectors that contain data you wish to recover. To maximize your chances of recovering all of your files, begin the restoration process as soon as possible.
Part 2: Why Do We Need to Formate Hard Drive?
Knowing that formatting hard drives can cause loss of data. Then why do we still need to format hard drives sometimes necessarily?
Devices Performance Issue

As a storage device, the performance of the hard disk will degrade over time, resulting in data fragmentation. Therefore, in order to restore the performance of the hard disk, we usually restore its performance by formatting.

File Access Error

Modern file systems typically support access management for complex files, ensuring that some complex data is only accessible to authorized users. However, this also leads to problems when these complex files are usually transferred and stored. But formatting can often greatly reduce the occurrence of these problems.

File Systems Different

The file systems supported by different systems and devices will be different. For example, when your system switches from Windows to macOS or from macOS to Linux, some file data cannot be opened. At this time, we will format the storage device to ensure that the data can be open successfully in different systems or devices.

Virus or Malware

If your computer accidentally downloads malicious software, it might happen that the ransomware will encrypt your hard drive without you noticing, and in order to use your hard drive again, you will have to format it.

Data Damaged/Corruption

There are various reasons for data corruption, if you are unfortunate, you may encounter data corruption and your file system is also affected, in which case you also have to format the hard drive to be able to reuse your hard drive.
Part 3: Can I Recover Files form the Formatted Hard Drive?
In short, the answer is yes. As long as data is not overwritten on the drive there are high chances of recovery. Once the data is being overwritten there is no way to recover data from formatted hard drives. Secondly, there shouldn't be physical bad sectors on the hard drive. In most cases, Data is being recovered by only using some efficient data recovery software/tool. But there must be no or minimal use of a hard drive after diagnosing data loss.
Part 4: How to Recover Data from Formatted Hard Drive on Windows & Mac within 3 Steps?
Tenorshare 4DDiG is among the most secure and reliable options to recover all lost data from Windows/Mac/USB/SD cards/external devices/digital cameras. If you want to recover data form formatted hard drive, then you really should give 4DDiG a try.
Here are some of the main features of 4DDiG:
Easily recover data from laptop/PC, external and internal drives, USB flash drives, SD cards, and more
1000+ file types are supported, such as photos, videos, documents, and audio
Recover files lost during accidental deletion, formatting, loss of partition, corruption, crash of system, virus attack, etc.
how to recover data from a formatted hard drive using Tenorshare 4DDiG in just 3 steps:
After the installation and launch of 4DDiG Data Recovery, you will see the home interface as shown below. In our case, from a list of disks, select the target from where you want to recover data and then click Scan to begin.
4DDiG displays categories like Deleted Files, Existing Files, Lost Location, RAW Files, and Tag Files under the Tree View and also provides File View to check file types such as Photo, Video, Document, Audio, Email, and others. 4DDiG scans the selected drive for all the missing data. We can pause or stop whenever we see if we have found our lost file(s).
After the scan, you can preview and select files you want to recover but do not save them to the same disk to avoid overwriting.
Part 5: How to Avoid Data Loss?
We need to care about the following in order to avoid data losses:
You must immediately stop using a computer whenever data gets lost and try to look for the reason for data loss.
You must avoid creating new data for changing existing data, so that the new data won't being overwritten on your previous data.
Having backups are really helpful in such condition.
It is suggested you take sufficient time before formatting disks and verify the format type and syntax of the format command before executing it. A little care combined with healthy backup practice can lead to keeping your data safe.
Avoid downloading and executing suspicious websites and files.
Part 6: How to Safetly Formatted Hard Drive without Lossing Data
Follow below steps to safetly formatted hard drive without lossing data:
Method 1: Format Hard Drive with Windows Explorer
Step 1: Click on "My Computer"icon.
Step 2: Select the drive, you desire to format, then "right-click" on it.
Step 3: Choose "format" from the drop-down list.
Step 4: Once the "format" box appears, you can select the capacity size. You can also set-up the file system.
Step 5: Click on "Start". As you click "start" an alert will appear before you. If you are sure you want to format the drive, you can click on "ok".
Method 2: Format Hard Disk with Windows Disk Management
Step 1: Click Windows Start, type and run "diskmgmt.msc". Now, click on "My Computer" and then Right-click and choose "Manage" from the drop-down.
Step 2: Then select Disk Management under "Storage".
Step 3: Right-click on the partition you want to format and select "format" from the drop-down.
Step 4: Set the volume label, allocation unit size, and file system. Press "Ok" to start.
Conclusion
Now as we know that our data stays on the drive even after formatting but we lose its reference, so if somehow we get those pointers back before overwriting we can get our data safely. Firstly we all must keep a backup of our important data. And try to follow the precautions stated above. Still, if we face such conditions the best option to recover data no matter how it was lost is by using Tenorshare 4DDiG, as they follow secure, reliable, and deep searching mechanisms in order to recover our data. In today's World, if we are still unable to get our data, it is saddening. Tenorshare 4DDiG reviews show how many people recover their data safely. You can get more details by simply visiting their official website.