Question

"I had no issues switching from Windows 7 to 10, except than the fact that I can't access my USB port's E drive. The computer detects the USB flash disk I inserted. It is present when I go to Connected Devices in Settings. I'm unable to open it for some reason. I have Open Folder to View Files set to Autoplay. Anyone with knowledge of how to access the E drive so that I may access the data on my flash drive? You can see that I don't know much about computers."

-Question from Microsoft Answers
If you use a USB drive very often on your desktop, you might face the "Can't open USB drive on Windows 10" error. These types of errors require practical fixes. In fact, it depends on the condition or reason for the error. The "Can't open USB on Windows 10" error resolves without losing any of your data, either from your hard drive or USB. However, if you happen to lose your data, we have a better option for recovering it. So technically, when the problem of "Can't access flash drive Windows 10" is solved, you will not lose any of your data. Most of the time, the reason for not being able to open the USB drive is very obvious. Like using an old version of Windows 10 or corrupted drivers, and many others. However, some of them require deep solutions, which may take some of your time and can 100% solve your problems.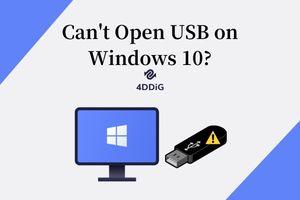 Part 1: Why Can't I Open a USB Drive in Windows 10?
Nothing can be the cause or reason for the can't open USB drive in windows 10 issue. Although the most common ones that users face, especially in Windows 10, are the following.
Outdated Drivers: Most of the drivers get outdated, which results in the can't open the USB drive in Windows 10 issues. You will see the USB drive, but it will not work in the disc management due to some outdated driver.
New USB Drives: This issue may appear when you bring a new USB that has not been used, not even once. You will see the USB drive, but it will not be accessible.
Not compatible with Windows 10: The file system of a USB may change after you format the USB on any other computer. Afterward, when you use it on your desktop, the file becomes irrelevant to your system.
Part 2: How to Resolve the Can't Open USB Drive on Windows 10 Problem
Now if you have gone over the can't open USB drive on Windows 10 issue and its reason, then it is to know how to fix the can't open USB drive on Windows. The following are some of the easy fixes that will help you fix can't to open USB on Windows 10.
Fix 1: Plug the USB into another PC
Sometimes the issue is with your USB port. A damaged USB port can also be the reason for the issue of being unable to open the flash drive. So, before trying anything else, first, check your USB on another desktop or USB. If you want to check your USB port, plug your USB flash drive into another PC or laptop. If the USB works and you can see if it is mounted, then your USB port is broken. If the problem is still there, then there is no problem with your USB port but your USB flash drive is broken instead.
Fix 2: Reinstall the USB Controllers
If you don't see any USB drives in disc management, then you can reinstall the USB controllers. The following are the steps to do it.
Step 1: Click on the start menu and type "devmgmt.msc" and press enter.
Step 2: In the device manager, you will see USB mass storage. Right-click on it and uninstall it.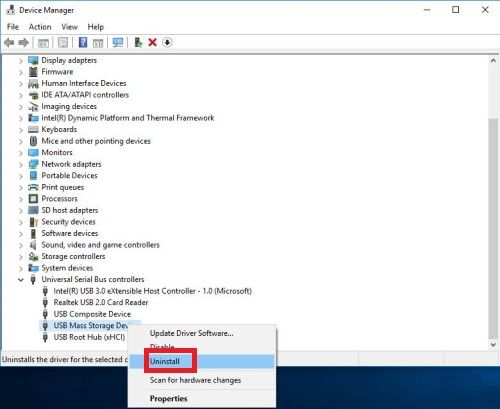 Step 3: Once you uninstall the USB controller, restart your system. The USB controller will automatically be reinstalled.
Now check if the issue is resolved or not.
Fix 3: Rename your USB Drive.
To change your USB drive letter, press Windows Key + R and type diskmgmt.msc, and press enter.
Step 1: Now search for a USB drive from the list.
Step 2: Once you locate the USB flash drive, right-click on it and click on " Change drive letter and path". In this way, you will change the drive letter.
Fix 4: Format your USB drive
You can format your USB drive in many ways, but the most reliable one is to format it through the file explorer.
Step 1: Right-click on the USB drive and click on format.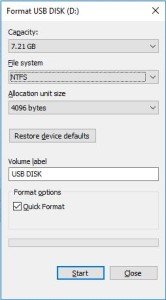 Once you format your USB drive, then you have to recover your data.
Bonus Tip: How to Recover Data from a Can't Open USB?
You can solve the Can't open USB Drive in Windows 10 issue via formatting your USB drive. But recovering your data is a must. If you are reluctant towards formatting your USB drive, then you shouldn't be. Because you can recover your data with 4DDiG data recovery software. It is a professional USB data recovery software that can help you get your data back within 3 steps. So, if you want to recover data from your USB drive, you can simply download the Tenorshare 4DDiG and recover whatever you want.
Recover data from a PC, a Mac, a hard drive, a USB flash drive, an SD card, a camera, an SSD, and other external devices.
Support for more than 1000+ file types like photos, video, audio, office documents, archives, etc.
Recover lost data due to deletion, formatting, system crash, or virus attack.
How to Recover Data from Your USB Flash Drive Using Tenorshare 4DDiG:
Firstly, you need to download and install Tenorshare 4DDiG Data Recovery. Launch the program, select the USB flash Drive and then click on Start to further your step.
4DDiG immediately examines the selected drive all around for missing data, and you may pause or stop the searching at any time if you've identified the files you want to recover from your USB Drive. There are categories like Deleted Files, Existing Files, Lost Location, RAW Files, and Tag Files under the Tree View. You can also switch to File View to check file types such as Photo, Video, Document, Audio, Email, and others. Besides, you can search for target files or use Filter to narrow down your search on the right side of the panel.
Following the discovery of the target files, you can preview and recover them in a secure location. Afterward, you will be done recovering data from your USB flash drive using Tenorshare 4DDiG.
Conclusion
So if you ever face the "Can't open USB drive in Windows 10" issue, then apply these above fixes. If some of these fixes don't work, then formatting your USB flash drive is the only option. Once you format your USB drive, then you can recover your data using 4DDiG data recovery software. There is no loss even if you format your USB drive.