Did you realize that adding an external storage drive to your computer storage will increase the amount of storage space available for storing files. For example, an external hard drive like LaCie can work well as a primary or backup drive. But the truth is that even with more space to store our important files, we are not immune to data loss on a lacie external hard drive for a variety of reasons. This guide is designed to help you understand what to do if you need to recover LaCie external hard drive. The best way to keep your competitive edge against data loss is to use practical solutions and advice to avoid more data loss, so let's get started.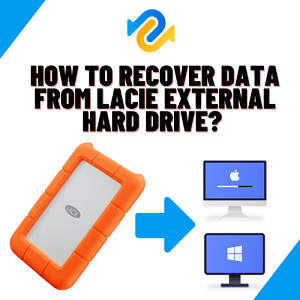 Part 1: Is It Possible to Recover Data From a LaCie Hard Drive?
The answer is of course yes! LaCie external hard drive data recovery is extremely possible. When files are deleted on such drives, the deleted data is gone, but in fact its still retained in the file system and not really deleted. Because it is marked as overwritten by new files saved by the user, you can still find them through a tool search after the data is lost or deleted. To make things easier, we have provided possible solutions on how to recover lacie external hard drive that you can try right now to help you recover the data on your LaCie external hard drive.
Part 2: How to Recover Data from LaCie External Hard Drive?
You can recover data from a LaCie external drive in three possible solutions. We start them in the order we consider most reliable.
Solution 1: Use Professional Data Recovery Software
Whether you are looking for how to recover data from LaCie external hard drive on Windows or Mac, Tenorshare 4DDiG will be the best choice to help you recover lost or deleted data on both operating systems. Because, it is equipped with advanced algorithms to the point that it can scan for lost data in minutes and recover your lost content professionally. Let's get started with what Tenorshare 4DDiG has to offer in terms of recovering data.
It supports recovery of all types of files such as videos, audios, images, documents, etc. from LaCie external hard drive regardless of the file format.
It supports recovering files from LaCie external hard drive after accidental deletion, formatting, system crash or other data loss situations.
Available for your Windows Computer as well as your Mac System.
Free of any ad pop-ups and viruses.
Tenorshare 4DDiG software can be used in three (3) steps easy namely:
Link and Choose An External Hard Drive to Connect

Install and run Tenorshare 4DDiG to begin, then connect the LaCie hard drive, where you lost the data to your PC. Select the drive upon successful connection to begin a scan.

Scan External Hard Drive Upon Connection

After scanning the LaCie hard drive for missing data right away, 4DDiG allows you to halt or end the search once you've located the files you wish to recover. Under the Tree View, you may view files in categories like Deleted Files, Existing Files, Lost Location, RAW Files, and Tag Files. To see file types like photos, videos, documents, audio files, emails, and more, you can switch to File View. Additionally, on the right side of the panel, there are search options for target files and a filter that you may use to focus your search.

Preview and Recover Your Data

You will be able to examine the data files before recovering them to your specified location after successfully scanning the LaCie hard disk. To prevent overwriting the recovered data, the location that is chosen must be different from the original location.
If you have a Mac PC, you can perform a remotely based data recovery by following the similar methods listed below:
Download and connect your LaCie external hard drive.

Install the most recent version of Mac hard disk data recovery on your computer after obtaining it from our website. Also have your LaCie external hard drive connected to your computer, to carry out the next step.

Choose the external drive to scan.
Preview and Recover Data
After a successful repair of data on your lacie external drive, you can preview the file format type available and recover the file by saving it in a new location.
Solution 2: Try Windows File Recovery Tool
The Windows store offers a free download of the Windows File Recovery program. To manually recover data from LaCie external hard drive using this software, you must comprehend and know how to use the command prompt.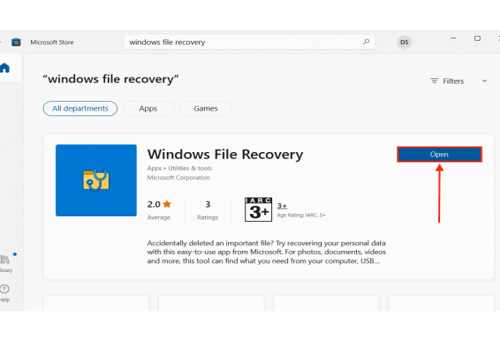 Step 1: Enter the command– winfr or double-click on the software to open and begin an attempt at recovering your lost data.
Step 2: Connect your LaCie hard drive and note the letter ascribed to your drive.
Step 3: Next, type "C:\RecoveredFiles/extensive" into the command line. In this case, extensive is the new location where you intend to save the new data, and C is the new storage location in place of the default E. You can change the "letter" and choose the storage location as you see necessary.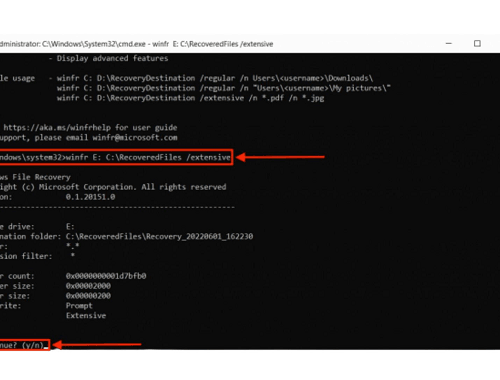 Step 4: When a prompt message asks you to continue, click "Y". A scan will start after the proceed button has been selected. Your recovered files will be at the new location you entered. Press "Y" once more to examine these files in their respective folders in the new location.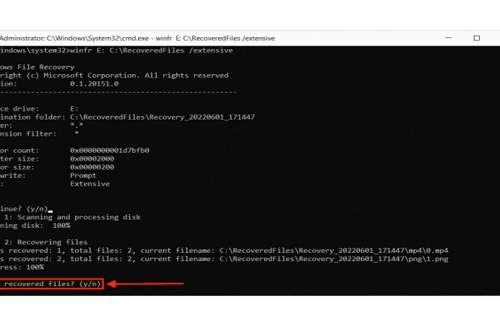 Solution 3: Send The Drive to Data Recovery Service
As an alternative, you can send your LaCie hard drive to the lacie hard drive data recovery service center, available worldwide. This method can however be only available as a free option if damage occurs within the warranty window. While this method also assures a 95% recovery rate, the recovery process is not localized; it would have to wait for a certain period to get your files unlike in professional software like the Tenorshare 4DDiG for lacie drive recovery.
Tips: How to Prevent Data of LaCie External Hard Drive Loss?
To prevent or reduce the incidence of lacie hard drive recovery on your LaCie external hard drive, you need to take note of the causes before understanding how best to prevent it from happening.
Here are five likely causes of data loss on your LaCie external hard drive:
Accidental deletion of files.
Forceful ejection of LaCie external hard drive when it is still in use or connected.
Corruption by Malicious Virus file.
Loss of logical partitions.
Wrongful format of files.
To prevent any of these from happening to your LaCie external hard drive, you can:
Look out and double-check your files before deleting them.
Eject your LaCie hard drive with the safe option, before disconnecting from your computer.
Use surge protectors to control the amount of voltage entering your computer, so a sudden surge that cannot lead to accidental deletion.
Use and update your trusted antivirus software to eliminate virus attack.
Keep your external hard drive free of dust as it can interfere with or alter hardware parts.
FAQs about Data Recovery of LaCie External Hard Drive
1. How Can I Recover Data from A LaCie External Hard Drive?
To recover data from LaCie external hard drive, you can use the three simple methods mentioned in this guide, but from the standpoint of security and efficiency of your data recovery, we recommend using Tenorshare 4DDiG a professional software in three quick DIY (do-it-yourself) steps
Install the Tenorshare 4DDiG software to your Microsoft or Mac PC.
Connect the LaCie external hard drive and run with the 4DDiG software clicking back scan to begin.
Preview the files recover and save them in a new folder location.
2. Can An External Hard Drive Be Recovered?
It is possible to recover lost data from an external hard disk in more than 100 different formats. You can get started on your Windows or Mac with safe and reliable software like Tenorshare 4DDiG with the following steps:
3. How Do I Fix the LaCie External Hard Drive Not Showing Up on My Mac?
You can refer to the following six free fixes:
Check the connecting cable.
Try another Mac and afterward attempt a Windows PC.
Change your preferences.
Use Disk Utility to get to the drive.
Change the Drive Format.
Refresh your macOS.
4. How Do I Recover An Unreadable External Hard Drive?
To recover an unreadable external hard drive, you can opt for either of the following solutions:
Install or update your disk driver to make your external hard drive readable.

Rename your external hard drive to a new letter if the current letter is the same as the one ascribed to another drive or partition of a drive.

Format the unreadable external hard drive.

Formatting a drive means that it will erase all data from the external hard drive. Therefore, before formatting an unreadable external hard drive, we recommend using the professional third-party data recovery software, Tenorshare 4DDiG to recover data first.
Conclusion
LaCie external hard drive is a useful tool in which you can backup or store important data. However, if you happen to lose files, then you can consider using Tenorshare 4DDiG Data Recovery, which offers 100% security and a high recovery rate, is the best solution to restore data from LaCie external hard drive.