Question

"I have not optimized my Mac in ages and it has gotten very slow lately. I think it's mostly because of my duplicate files. Is there any way to delete them in one go? If there is, please tell me what to do!"
Mac optimization is another world on its own. Full of tools, utilities, tips, and tricks aimed to make your Mac work smoothly. An important aspect of this optimization world is deleting duplicate files. These duplicate files take up a significant amount of space on your Mac but don't serve any purpose, so it's important to get rid of them. There are a lot of apps that exist that delete duplicates from your Mac and sometimes you may be confused as to which one is the best for you. So we have tried to make that choice easier for you by curating a list of the best duplicate file finder mac 2023. This top 5 list of duplicate file finder mac includes everything from the best features, pros, and cons to the compatibility and pricing of the apps. So let's go ahead and decide which app is the best duplicate file finder for mac.
How to Automatically Delete Duplicate Photos in Mac Photos App?
Part 1: The Disadvantages of Duplicate Files in Mac
If a ship carries more weight than capacity, it is bound to sink. It's the same with duplicate files and Mac. If a lot of duplicates accumulate on your Mac, it is bound to slow down over time. This is the biggest disadvantage of duplicate files on Mac. These files take up unnecessary space which you can otherwise use for storing other important data. So take the first step now and download any one of the duplicate file finders mentioned below.
Part 2: 5 Best Duplicate File Finder Mac
Top 1: 4DDiG Duplicate File Deleter for Mac
Let's start off with the best duplicate cleaner for mac list with the powerful 4DDiG Duplicate File Deleter. It is a complete package that offers astute solutions to your duplicate files problem. From the UI to scan times and file deletion, this file deleter is miles ahead of the rest. It is an easy-to-use software with an intuitive interface and an advanced MD5 Message-Digest Algorithm to pluck out all the unwanted duplicates from your computer.
Pros:
Can find duplicates for a wide variety of files.
Can easily scan internal and external storage devices.
The smart MD5 Message-Digest Algorithm makes it powerful and efficient.
Fast and accurate scans.
It is free of viruses, malware, adware, and annoying pop-ups.
Cons:
It may not support older versions of Mac and Windows PCs.
Compatibility:
The 4DDiG Duplicate File Deleter is compatible with both Windows and Mac Os.
Price
How to Use 4DDiG Duplicate File Deleter to Find and Remove Duplicate Files Mac?
Start the app and choose the drive or folder which you want to scan.
Adjust scan settings according to your needs and begin the scan. To begin, click on the start button.
The scan will list all the duplicate files on the screen. Select the files you want to delete and delete them all at once with the duplicate file deleter and you are done.
Top 2: Gemini 2
Next up in the duplicate finder os list is the Gemini 2 for Mac, a duplicate file finder that scans your Mac and external drives and makes you aware of all the nooks and corners where the duplicate files are hiding. The Gemini 2 duplicate finder unclogs the Mac by deleting useless files and ensures a smooth and error-free Mac.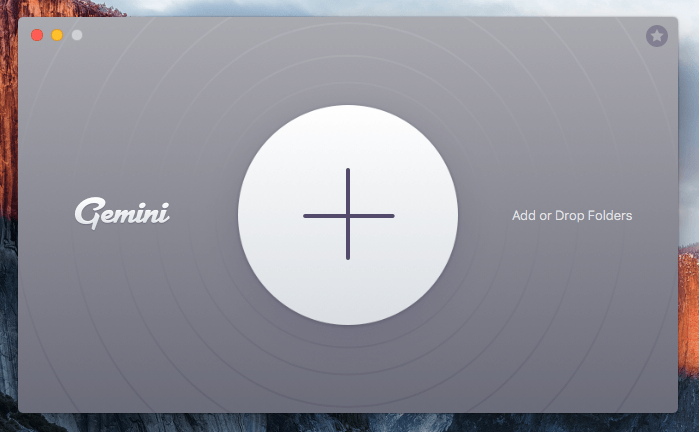 Pros:
Can scan for similar and exact copies of files and remove them.
Easy to use interface with minimal glitches.
Gemini 2 has a great feature wherein you have the option of excluding specific files or folders that you do not want to include in the scan.
Has a smart Cleanup option that deletes all duplicate files automatically.
Cons:
High disk consumption.
Previews can be a bit laggy.
Compatibility
The Gemini 2 supports macOS 10.10 and higher.
Price
Top 3: Duplicate File Finder Remover
At number 3 we have the duplicate remover mac by Nektony, the developers of essential Mac optimization tools like the MacCleaner Pro and Disk Space Analyzer. Loaded with the ability to weed out all kinds of Duplicate files, the Duplicate File Finder Remover is an absolute gun tool to have in these kinds of situations. It works on both Apple Silicon and Intel-based Macs and delivers top-notch performance, scan after scan.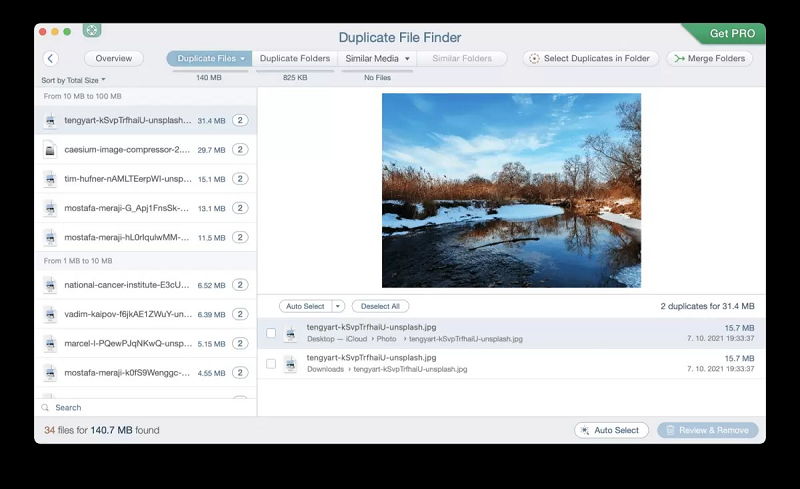 Pros:
It is super easy to compare similar photos with this app.
Fully compatible with M1 Macs.
Polished and smooth user interface that enhances user experience.
Cons:
You can't remove duplicates without a license.
Compatibility
Compatible with M1 Macs.
Mac supports only.
Price
Has a free version and a pro version.
Top 4: Disk Drill's Duplicate Finder for Mac
Next up in the list of the best app for finding duplicate files on mac, we have Disk Drill's Duplicate Finder for Mac. Disk Drill is a simple app that does what it needs to do without much hassle. It is the most widely used duplicate file finder for Mac. Most importantly, it is a free app, which makes it a popular pick.
Using it is simple, simply drag or select the folder you want to find duplicates from and start scanning, delete the duplicates found, and you are set.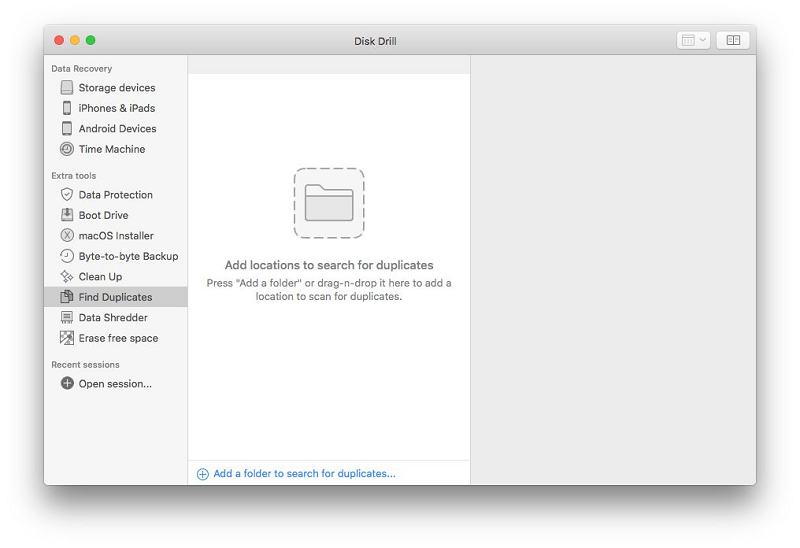 Pros:
Free duplicate file finder.
Comes with a number of other useful tools.
Powerful data recovery capabilities in case you delete files you didn't want to.
Cons:
It is not a standalone tool, it contains a data recovery option as well.
Compatibility
Disk Drill only supports Mac OS X 10.8.5 and later.
Price
Top 5: MacKeeper
Last on our list of best duplicate file finder mac is the MacKeeper. The MacKeeper is an assortment of tools with a duplicate file finder being one of them. It is equipped to scan entire drives for duplicate data. You can also find similar files by customizing the match level in the settings. However, it is the slowest out of all the apps tested. This can be a major hindrance to its usability.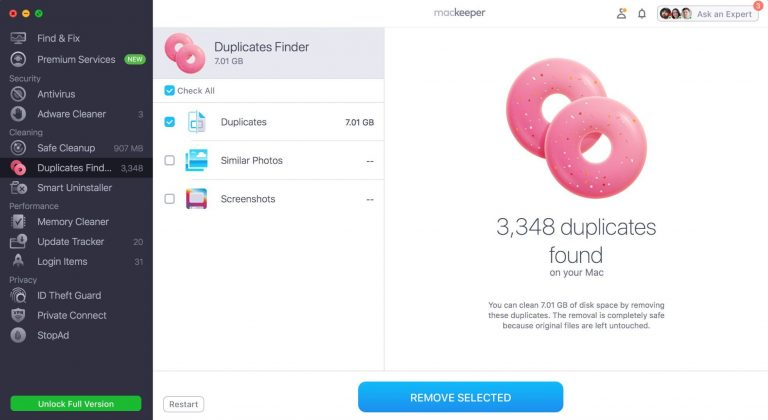 Pros:
Efficiently finds duplicate files and similar photos in folders.
Gives you the option of previewing the found duplicates.
Simple and easy to use.
Cons:
Scan times are long.
Is unable to find all duplicates.
Can be a bit costly.
Compatibility
Works on macOS 10.11 or later.
Not available for Windows.
Price
Part 3: How to Avoid Duplicate Files in macOS?
Taking measures to avoid duplicate files is much easier than paying a subscription for a third-party app. You can follow the tips below to make sure you reduce the number of duplicate files on your Mac.
Sync your photos using one method only. Using multiple sources may cause duplicates.
Switch off any third-party apps that automatically download files on your Mac such as Whatsapp.
If you want to transfer data from an external device do it simultaneously.
Avoid using AirDrop if you have iCloud Photos turned on. Turning on both of these services may cause duplicate photos.
Use a duplicate deleter tool such as 4DDiG Duplicate File Deleter to check and free up space.
FAQ about Mac Duplicate Files
1. Does Mac Have a duplicate file finder?
No, Mac does not have an inbuilt mac Duplicate File Finder. To do that you'll have to download a third-party duplicate file finder app like the 4DDiG Duplicate File Deleter.
2. What is the easiest way to find duplicate files on a Mac?
The easiest way to weed out duplicate files on mac is to use the 4DDiG Duplicate File Deleter . It is smooth, fast, and easy to use. Just select the folder which has the duplicates, start scanning and delete the duplicates found in the scan.
3. How do I find and remove duplicate files on my Mac?
To remove duplicate files on mac, use the 4DDiG Duplicate File Deleter. You can easily add drives or folders to the app to scan for duplicates and delete them when they are found.
4. What is the best duplicate file remover Mac?
The 4DDiG Duplicate File Deleter with its powerful features and fast scan times is undoubtedly the best duplicate file remover for Mac.
Summary
This top 5 list of duplicate file finder mac includes everything from the best features, pros, and cons to the compatibility and pricing of the Apps. We have come to the end of this article and we hope that it may become a lot easier for you now to select a duplicate file finder that suits your needs. It's probably the 4DDiG Duplicate File Deleter .