Over the long run, it is typical to have duplicate videos, files, and data on your PC. It tends to be irritating as these comparable files, especially, videos cover a large portion of the hard disk. Erasing them physically from your computer could take ages. Luckily, there are duplicate video finder and duplicate video remover tools. They track down the duplicate videos and delete them from your device. There are a ton of video duplicate finder tools in the shape of software available online. In any case, to figure out the best that suits you, we have mentioned the best ones to assist you with the issue. In this article, we have listed the features and cons of different tools that find similar videos on your PC. Choose the one that best suits your interests and clear a chunk of space off your disk.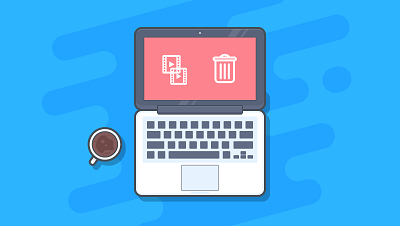 How to Find and Remove Duplicate Files in Windows 10/11 in 4 Ways?
Top 1: 4DDiG Duplicate File Deleter
4DDiG Duplicate File Deleter is the best duplicate video finder on Windows. Windows-based gadgets, including USB drives, external drives, and other devices can also be scanned on this tool. It uses an advanced MD5 Message-Digest Algorithm to find files quickly with the best accuracy. Using this program, you can erase bothersome duplicates, for example, photographs, videos, and more files without stress. This guide will help you find and erase duplicate files using it.
Features
Locate duplicate files fast with 100% accuracy.
Remove duplicate files from Windows/USB/SD card/External hard drive in seconds!
Keep photos, videos, audios, documents and more files well-organized and improve file searching.
Free up disk space and boost performance.
Customize search criteria by choosing files or folders to include or exclude.
Quick and user-friendly GUI.
Cons
The free trial versions can let you find only 15 duplicate files.
How to use 4DDiG Duplicate File Deleter?
Step 1:

Choose a Path

Select the folder or external storage that you want to find the duplicates in.

Step 2:

Scan for Duplicates

Select the scan mode of your choice and click on the start scan button to start the scan.

Step 3:

Remove Duplicate Files

All the duplicate files found from the scan will be previewed. Sort the files and delete them according to your wishes.
Top 2: Duplicate Video Finder Free
Duplicate Video Finder Free is a requirement that every PC must have. If you have a variety of films put away on your PC, this tool is for you. It will be beneficial for videographers who invest a lot of energy in shooting videos. Because of its fast working, this video duplicate finder can let loose a lot of space on your disk in only a few minutes.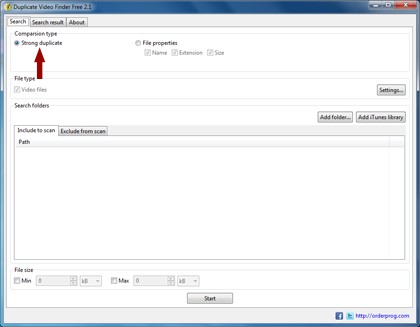 Features
Outright security in use is the thing that makes it the best duplicate video finder. It won't delete any files without the clients' intent. After checking a specific drive, the program will give you a rundown of video duplicates and deal you to delete the extra files. Some other useful features include:
Automatic video duplicates selection.
It doesn't delete user-specific files.
This software shows you the base and maximum file sizes.
It doesn't burden your computer and requires a small amount of disk space for working.
Cons
You can't place the search on pause.
Top 3: Ultimate Duplicate Video and Music Finder
This duplicate video search software will empower you to track down all music and video files. It will effectively play out the search even if the names of the files are not the same. The binary will guarantee you get the ideal outcomes and find all the duplicate files. Besides, you can look for duplicates in various folders in a single go.
Its high-level Smart Folder feature will allow you to recognize where the first files were, so you can monitor the files that you moved to MusicVideoDuplicates. In addition, you can screen the duplicates that were left unattended in the first folder. The program will likewise automatically compare the duplicate files and the files from your original folder. It requires another $1.99 to MOVE the duplicates.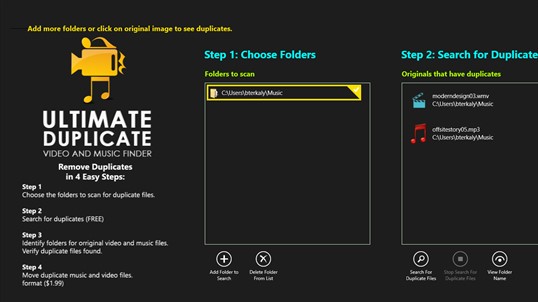 Features
The files name and area don't influence the results.
Moves video files to a particular location on your device.
You can cancel a search result at any instance.
Cons
You have to pay to transfer the duplicates after the search result.
Top 4: CCleaner
Considered one of the most mind-blowing PC software, CCleaner can assist you to find duplicate video files on your PC. Before utilizing this tool, take a look at every one of the options for getting the exact outcomes while looking for the duplicate files. Determine your search result by referencing the size and name of the file or showing the date when the video was saved. Add a few exceptional cases while searching to speed up the system.
Due to its rich usefulness, CCleaner can likewise delete any trivial software, impermanent files, and cache to open up space on your device.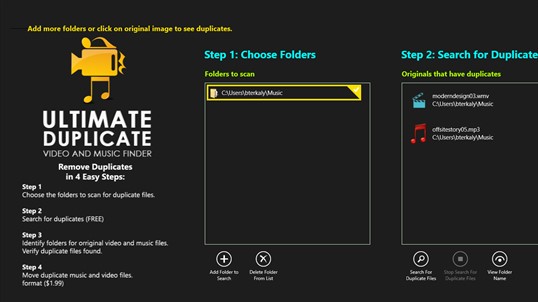 Features
Filters files from your PC in real-time.
Shows which application opens when you start your PC.
Easy and understandable GUI.
Solid security support.
Cons
There are limitations on its free version.
May require extra installations for additional features.
Top 5: Duplicate Video Remover
Duplicate Video Remover Free is a practical instrument that will assist you dealing with your video library. It disposes of redundant files that obstruct your PC. Including an easy-to-use interface, this program permits you to determine the videos and catalogs before deleting files.
It searches files dependent on such attributes as the type, size, or name of the files. This powerful video finder will distinguish every one of the duplicates, even duplicate youtube video quickly and without any problem.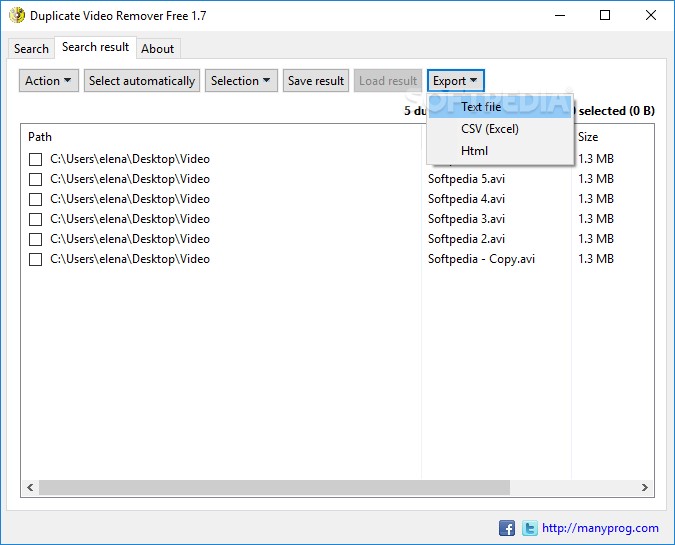 Features
Shows the least, and the largest size of files.
Adaptable search results.
Outright security and privacy protection.
Cons
A predetermined number of additional settings and elements.
FAQs
1. What is the best duplicate video Finder?
Windows don't have a file search utility, so you want third-party duplicate file removers to assist you with finding and deleting duplicate files. The best duplicate file finder for Windows is 4DDiG Duplicate File Deleter which uses an advanced MD5 Message-Digest Algorithm to find duplicate files quickly with 100% accuracy. With this program, you can get rid of duplicate photographs, videos, and more files easily.
2. How do I find and delete duplicate videos?
You can find and delete duplicate videos from your PC using any of the above-mentioned software. Download the software right away, and scan your computer for all the files that are saved twice or thrice, and so on. The best among these duplicate video finders is the 4DDiG Duplicate File Deleter. It can get scan your system for all duplicate files in no time.
3. How do I find duplicate videos in Windows 10?
Windows 10 does not have any in-built duplicate videos finder. So if you wish to find the same videos on your PC, you will need video duplicate finding software. You may download any one of the above-mentioned software to get going.
Conclusion:
We hope the above guide answers your "what is the best duplicate file finder" and "how to delete duplicate video files" question and that you presently have a decent duplicate finder downloaded on your PC. You can likewise utilize 4DDiG Duplicate File Deleter since it is the best duplicate video finder available.