Has it ever happened that your Mac slowed down to a halt due to duplicate videos? If it has recently, you must be wondering how to find duplicate video files, Mac? The same issue occurred to me once when duplicate videos filled my MacBook's storage to the brim. Due to this, my Mac slowed down to a snail's speed. I am a video editor by profession, and finding the right video from this digital chaos was quite frustrating. But luckily, I soon figured out a way to get rid of duplicate videos with the assistance of a duplicate video finder Mac. Over time, duplicate videos can accumulate in your Mac storage. They tend to take up more space and can slow down the system. Searching for the right version is also time-consuming. However, there are two ways to remove duplicate videos. In this guide, I have mentioned some tricks to remove video copies both manually and through duplicate video software.
Part 1: How to Find and Remove Duplicate Videos Manually?
It is possible to search and find duplicate videos on Mac through the New Smart Folder feature in the Finder.
Step 1: Start by opening Finder.
Step 2: Navigate to the menu bar to Select File → New Smart Folder.
Step 3: Search for duplicate videos by clicking the Add+ button in the top right corner.
Step 4: Enter the search details in the additional window that will pop up.
Step 5: Select Kind from the left field.
Step 6: Click on Movie in the right field.
Step 7: Sort through the duplicate video list by name, type, or date.
Step 8: Remove the files that have similar names to the Trash.
Part 2: Top Duplicate Video Finder Mac
Removing files manually from Mac can be time-consuming, and there is no way you can locate duplicate videos quickly. Besides, you won't want to go on a deletion spree as you might remove the correct versions accidentally.
In that case, a Mac duplicate video finder can help. It is the fastest, easiest, and most reliable way to search and locate duplicate video files. Here, I have compiled the features, pros, and cons of the best duplicate video finder, Mac 2023, to help you with this problem.
Top 1: 4DDiG Duplicate File Deleter for Mac
4DDiG Duplicate File Deleter is one of the best duplicate file deleter. It can scan Mac, USB, and other operating system-based devices and remove the videos in mere seconds. An advanced MD5 Message-Digest Algorithm makes it possible to locate the video files accurately. You can use this software to delete duplicate video files without any hassle.
Find duplicate videos, audio, photos, documents, etc on Mac with 100% accuracy.
Delete duplicate files on Mac in a few seconds.
Support to find and remove duplicates for Windows/Mac/USB/SD card and more.
Custom search by including or excluding duplicate files.
Pros
100% search accuracy.
Visible path for each file.
Custom search.
Preview option
User-friendly.
Cons
Only finds the first 15 video files for free.
Compatibility
Supports diversified file formats from Windows, Mac, USB, Camera, SD card, and internal/external hard drives.
How to use 4DDiG Duplicate File Deleter to Remove Duplicate Videos?
After downloading and installing 4DDiG Duplicate Video Finder on your Mac, launch the app and choose or drag and drop files to start remove duplicate video files.
Once you click the Scan Duplicates button, this app will fast scan for duplicate files. After the scanning, click on Video on the left pannl and you'll find all video copies here.
Now you can simply click on Auto-select or manually choose target video files, and then click Remove to delete duplicate videos from Mac.
Top 2: Gemini 2
Gemini 2 provides an intuitive user interface to free up a larger space by removing similar & duplicate videos. A smart selection algorithm observes your choices and applies the same pattern to future scans. It is fast and accurate. Furthermore, you can restore files or permanently delete them at your will.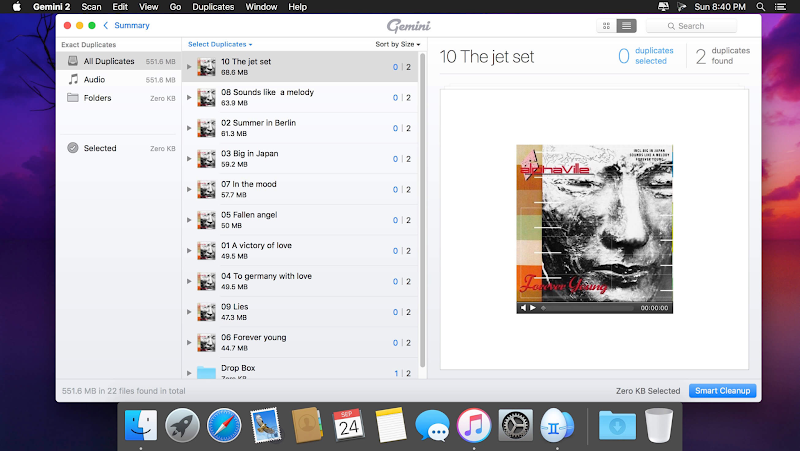 Features
Monitor Mac for new duplicate video files.
Find duplicate videos Mac from remote corners of the storage.
Manually delete files or let Smart Select do the work.
Replace duplicates with links to save space.
Add your selection rules.
Pros
Restore or permanently delete video files with a click.
Exclude specific files from the scan.
Learn from your choices.
Locate near-duplicate files.
Cons
No additional cleaning features.
Not fully automated.
The free version cleans only 500MB of duplicate videos.
Compatibility
Supports only macOS 10.10 or higher.
Top 3: Duplicate File Fixer
Duplicate File Fixer is another famous duplicate video file remover. It combines an advanced file management system with custom settings to detect, delete & organize video files. In addition, it also helps in recovering chunks of space by cleaning the system cache.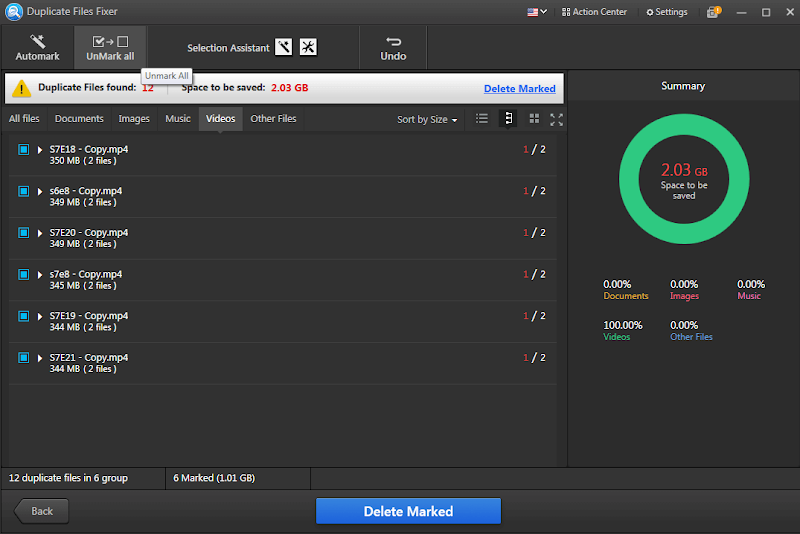 Features
Cleans Mac cache to boost performance.
Allows including and excluding specific video files.
Offers both auto-mark deletion and individual deletion options.
Drag & drop feature for adding duplicate videos and folders.
Pros
Easy to use for MacOS.
Exclude specific files from the scan.
Intuitive interface.
Preview option.
Clone remover for duplicate video deletion & organization.
Cons
The trial version only provides scanning.
Compatibility
Supports all file formats from Windows, Mac, and Android.
Top 4: Cisdem Duplicate Finder
Easy Duplicate Finder provides an easy-to-understand report after locating duplicate videos. It can remove video copies from Mac instantly. This software lets you control what files to scan and where. It is well-designed and does not contain any viruses or malware.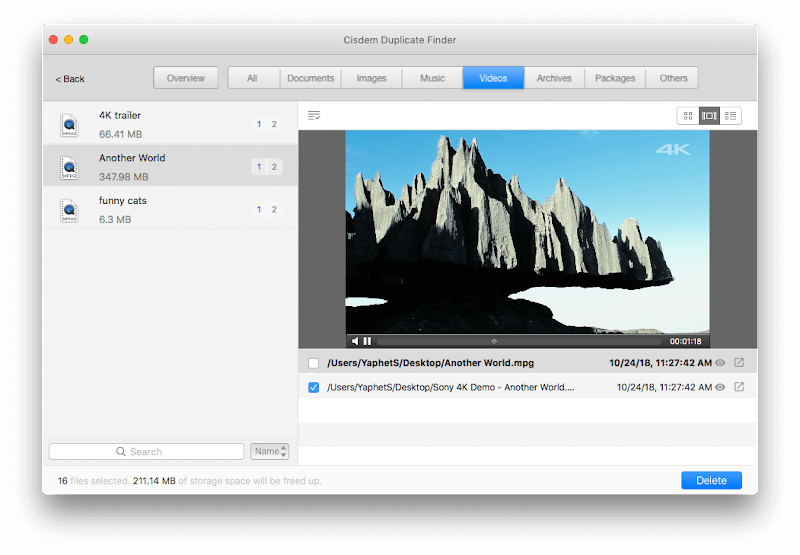 Features
An innovative algorithm compares videos by content.
Controlled scanning for specific video types and sizes.
Auto-select and delete bulk video files in one go.
Pros
Stop the scan any time to review the results.
Shows file creation time.
Enable setting parameters to sort through duplicates by size, file, name, or file count.
Quickly locate duplicate files in internal/external Mac storage.
Auto-select/de-select with just one click.
Cons
Not able to find duplicate videos in Photos on Mac
Compatibility
Windows XP or later; macOS 10.8 or later
Top 5: TidyUp
Tidy Up is a fully-featured Mac duplicate file cleaning software that offers both disk tidiness and identical video file removal. It can plow throw bulk videos to locate, compare and delete hundreds and thousands of duplicate videos in a short time.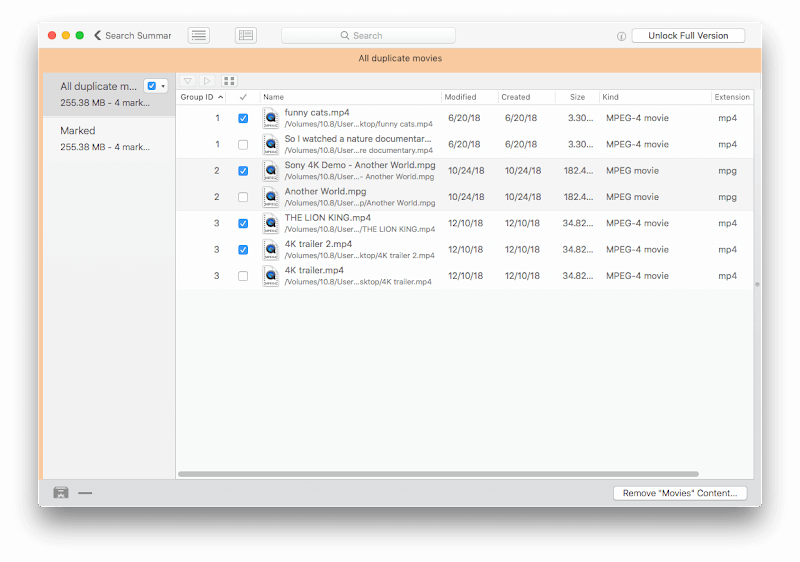 Features
Search and locate duplicate videos directly in the Lightroom library.
Locate hard links, exclude them from the search or replace them with duplicate videos.
Multiple modes for beginner & pro-users.
Customizable settings to add video file types of your choice.
Organizes the files by sorting them into types.
Pros
Powerful & modern interface.
Allows bulk duplicate video file removal at the administration level.
Separate settings tab for each kind of file.
Supports multiple libraries.
Added support for hard links.
Preview videos without leaving the app.
Cons
Expensive.
Complicated interface for novice users.
Free Trial allows only to delete ten videos.
Compatibility
It supports macOS 10.12.0 or higher.
Part 3: FAQs about Removing Duplicate Videos Mac
1. How do you delete double videos on Mac?
You can delete duplicate videos manually on Mac through the Finder option or choose one of the software mentioned earlier for a quick bulk video removal.
2. How do I find duplicate videos?
Download and install duplicate video software from the list mentioned above on your MacBook. Add the folder or drive where you want to search for exact videos. Next, scan to locate and delete.
3. How do I find and delete duplicate videos?
You can use any of the software mentioned above to find and delete duplicate videos on your Mac. Install the software to scan multiple times to find similar or exact copies. The best duplicate video finder Mac among the listed software is 4DDiG Duplicate File Deleter. It is cost-efficient and can search and locate identical videos in mere seconds with 100% accuracy.
4. How do I find duplicate videos in a folder?
Install and launch duplicate video software from the list as mentioned earlier. Add a folder or multiple folders for scanning. Once the scan is complete, select all unwanted video files, review them, and then confirm for removal.
Summary
Hopefully, our guide has been able to answer your "How to find duplicate videos Mac? and "which is the best program to find duplicate videos on Mac?" queries. If you are still hesitating to buy duplicate video removal software for your Mac, try 4DDiG Duplicate File Deleter. It's a top-notch, user-friendly, and 100% accurate duplicate video finder & deleter.