Question

"So I've been wanting to optimize my Mac for a while now and wanted to free up space to do so. I noticed that I have loads and loads of duplicate files on my Mac. Is there any way to find and delete them altogether? I heard about the Gemini 2 duplicate file finder, is that any good"
Our Macs harbor a lot of neglected files and folders. Most of these are things we don't need, duplicates of files already present, and much more. They add no value to the user experience and take up a lot of space. Wouldn't it be great to just get rid of these files and free up tons of space that can be used to improve Mac's performance? Gemini 2 does just that and that's exactly what we will talk about today. Welcome to an in-depth gemini 2 review, where we will be talking about everything from features and prices to usage and how to gemini 2 download. And don't worry if this review turns you away from using the gemini 2, because we have got the perfect alternative lined up for you, but we won't reveal that just yet. So gear up and get ready to see how you can use the gemini mac to your advantage.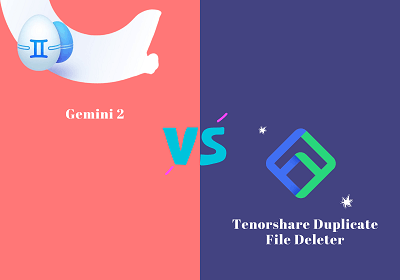 Part 1: What is Gemini 2 for Mac?
In simple words, Gemini 2 is a duplicate file finder for your Mac. That's right, all those clones that take up space on your Mac and make it slow, that's what the gemini duplicate remover deals with, so you don't have to. The Gemini 2 scans your Mac and external drives and makes you aware of all the little corners in which the duplicate files are hiding. Using the gemini duplicate finder regularly unclogs the Mac and ensures smooth and error-free performance.
Part 2: Gemini 2 Features
The Gemini 2 is loaded with features you can't mix. From the smart scanning features to the innovative gamification mode, the gemini duplicate photos app has it all. So let's look at the features which make the Gemini 2 great.
Removes exact copies of files in an instant.
Intelligently scans your Mac for similar copies so that you can safely delete them if not needed.
Simple to use interface with minimal glitches that enhance user experience.
Gemini 2 gives you the option of excluding specific files or folders that you do not want to include in the scan.
You can set weekly or monthly scans to get rid of duplicate files periodically.
Includes a gamification feature that makes the user experience more fun.
Has a Smart Cleanup option that deletes all duplicate files automatically, saving you a lot of the hassle.
Part 3: Is Gemini 2 for Mac safe?
Gemini 2 is perfectly safe. It has no viruses, malware, or annoying ad pop-ups. When you install Gemini you can be assured of a virus-free, high-quality software. Furthermore, files deleted by Gemini go to the trash, so if you delete files by mistake you can get them back later. You can also create a dedicated Gemini deleted files folder to inspect the deleted files more closely later.
Part 4: Is Gemini 2 Free?
No, the Gemini 2 is not free. However, it does offer users to delete 500 MB worth of deleted data for free. But don't worry, because they provide an array of affordable options that will suit your needs perfectly. The pricing for the Gemini 2 has the yearly and the Lifetime plan, with prices varying depending on the number of Macs you choose the subscription for.
Price
$99.95/Lifetime
Part 5: How to Use Gemini Duplicate Finder?
So coming to the most important question in this gemini 2 software review, the question being, gemini 2 how to delete duplicates? Using the Gemini app for finding duplicates is a piece of cake. Let's see how.
Step 1: Launch the app and you'll be met with a big plus sign. This button allows you to add the drives and the folders that you want to scan for duplicate files. Once you have added the folder, start the scanning process.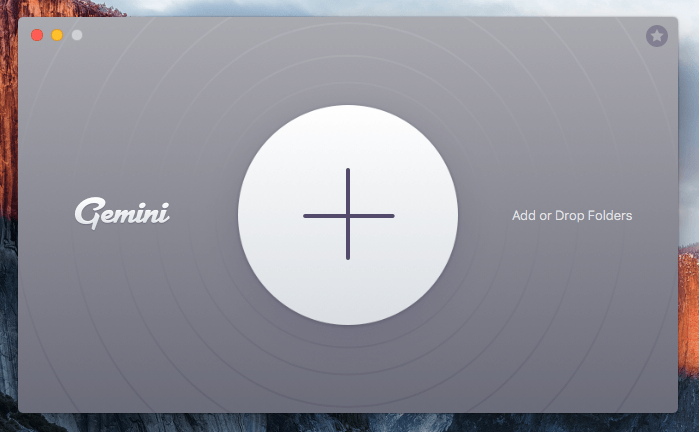 Step 2: The app will now scan your folder. The time taken to complete the scan depends on the size and complexity of your folder. However, you can rely on the Gemini 2 for a fast scan as it has some of the best scan times in the industry.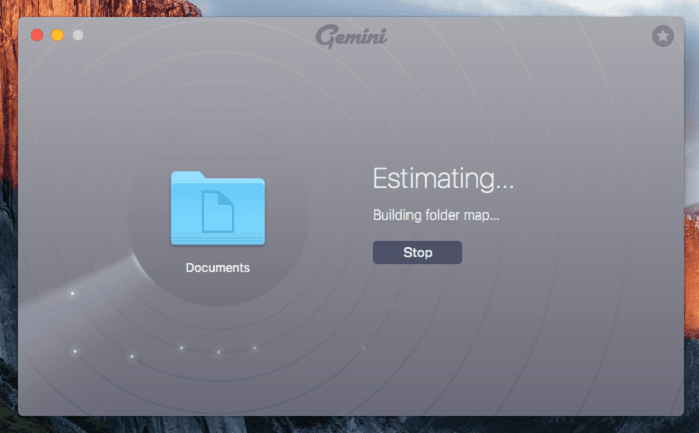 Step 3: Once the scan is complete, you will have the option to review duplicates. These will include 'Exact Copies' and 'Similar Files'. Select the files you want to delete and remove them and that's it, you have successfully optimized your Mac.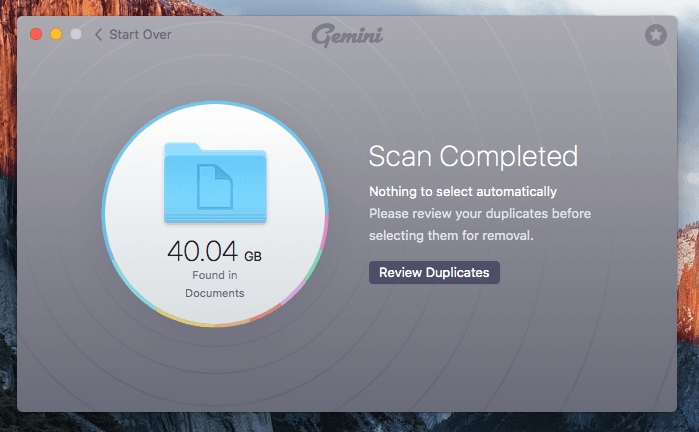 Part 6: How to Uninstall Gemini 2?
We have listed a lot of pros about the Gemini 2 in our review of gemini file duplicate review until now. However, they do have some cons as well, which may cause some users to uninstall the app. The major issue with the Gemini 2 is its usage. It is a resource-intensive app and uses a lot of Mac's memory to carry out the scanning process. This may cause your Mac to heat up. To uninstall this app:
Step 1: First, locate the Gemini 2 app in the Finder. You can also use 'Spotlight' to find the app.
Step 2: Once you find it select the app and drag it to the 'Trash' or select it and choose File > Move to Trash.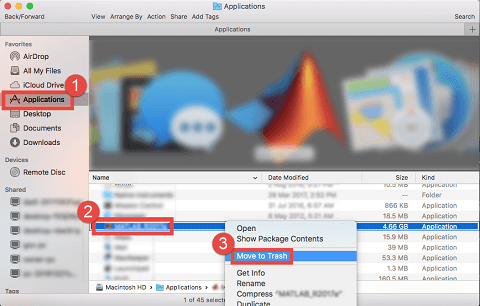 Step 3: Enter log-in details if asked. To finally delete the app choose Finder > Empty Trash and you will have uninstalled the Gemini 2 app from your Mac.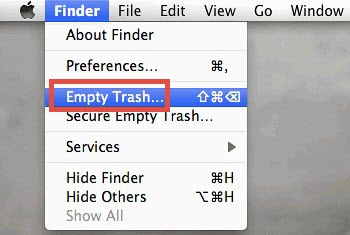 Part 7: The Best Alternative to Gemini 2
As great as the Gemini 2 is, it's always good to have alternatives just in case. Apps like these tend to be error-prone Gemini 2 is no exception. Also, some users may find the high disk usage of the app a big deterrent. So we have made sure that you have the perfect alternative ready to use when the time comes. The alternative that we are talking about is the 4DDiG Duplicate File Deleter . Right from interface to its performance this file deleter is miles ahead of the rest. It uses the advanced MD5 Message-Digest Algorithm to remove all the unwanted duplicates from your Mac.
Features of the 4DDiG Duplicate file deleter
Quickly find duplicates of different file types in a short time.
Free preview support for images, videos and various different file types.
Remove 15 duplicate files for free for users.
Support Windows and MacOS 10.11 or higher compatibility.
Scans all external storage devices like USB and Hard Drives along with internal storage.
The smart MD5 Message-Digest algorithm makes it powerful and efficient.
Easy to use and free of malware, adware, and annoying pop-ups.
Video Tutorial on How to Find and Remove Duplicate Files on Mac for Free.
How to Use 4DDiG Duplicate File Deleter?
Launch the app and choose the location in which you want to find the duplicate files.
Tweak the scan mode according to your needs and begin the scan. Click on the start button.
The scan will begin and all the duplicate files found will be listed on the screen. You can preview the file you want to delete and the files you want to save. Once you have selected the files meant for deletion, simply delete them and your job is done.
FAQ about Gemini 2
1. Can I trust Gemini 2?
Yes, Gemini 2 is a safe app. It is free of viruses, malware, ads, or pop-ups, that normally pose a threat to your Mac.
2. What does Gemini 2 cost?
The pricing of Gemini 2 includes $44.95/yearly plans and $99.95/lifetime plans.
3. What is the difference between Gemini and Gemini 2?
The Gemini 2 is a major improvement over the classic Gemini app. The major changes include:
Smart Selection algorithm in Gemini 2.
Smarter interface and sleeker design.
Gemini 2 is compatible with Mac's Photos app.
Gamification feature in the new Gemini 2.
Summary
We started the review with the question, what is gemini 2 for mac and we have answered it in all possible ways. So go on and use it to find and delete all of your duplicate files. And if that doesn't work out you can always rely on the 4DDiG Duplicate File Deleter to do the task for you.