Question

"On my iPhone 12, I have around 1000 photos in Photo Library, and I recently discovered several duplication. Is there a simple method to delete duplicate photos iPhone? Your ideas and thoughts would be highly welcomed. Thanks!"
Even though iPhone storage choices continue to expand, you may run out of space. It frequently happens when we take too many images or don't manage our iPhone storage well. There are several ways to free up space on your iOS iPhone. Finding duplicate images on your iPhone iOS 16 to delete is one of the most straightforward strategies. Here are the most effective ways how to delete duplicate photos on iPhone.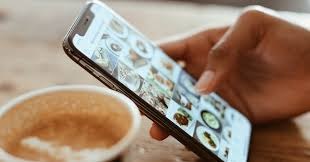 Part 1: Why are My Photos Duplicated on iPhone?
Why are my photos duplicated on iPhone? The iPhone duplicates images for a variety of reasons. To stop photoduplication, you must first figure out why it happens.
In most cases, iCloud will sync your photographs in stages. However, the iCloud might occasionally fail, resulting in duplicate photographs.
Because iCloud storage may quickly fill up, you may want to back up your iPhone using different cloud services. As a result, duplicate photographs are more likely because photos will be synchronized from separate locations.
The HDR (High Dynamic Range) function on your iPhone allows you to capture numerous comparable photographs. Every time you snap a shot with the HDR mode enabled, you will get two similar-looking photographs. It's not essential to store too many similar images on your iPhone, even if they aren't duplicates.
You may be used to modifying images using third-party programs to share stunning photos on social media or with friends. When you save the altered photographs to the Photos app, two identical photos take up storage space on your iPhone twice as the HDR function.
Part 2: How to Delete Duplicate Photos on iPhone?
Solution 1: Remove Duplicate Photos iPhone Manually Using Apple Photos
How to get rid of duplicate photos on iPhone? You can erase duplicate photographs in the iPhone Photos app manually. It will take some time and patience to finish.
Step 1: Open the Photographs app > Browse and choose the photos you want to remove one by one > To remove, click the Trashcan symbol.
Step 2: The photographs that have been deleted will be placed in the Recently Deleted folder.
Step 3: Navigate to Photos to completely erase them, scroll down and choose Recently Deleted > Select > Erase All.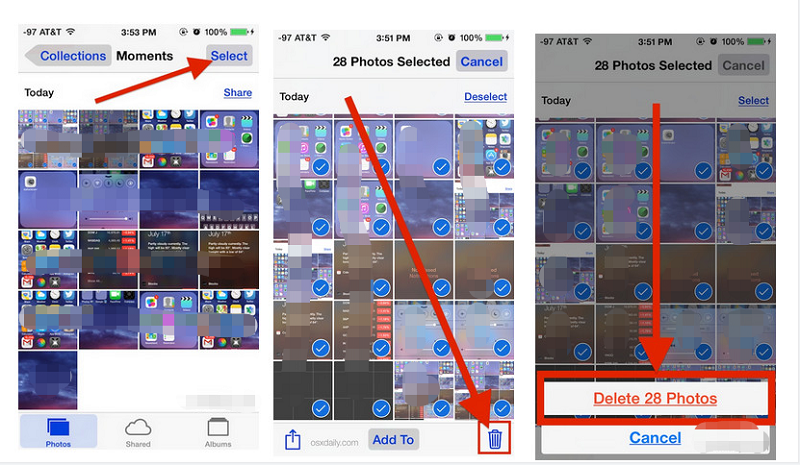 Solution 2: Get Rid of Duplicate Photos on iPhone from iCloud
It's also easy to wipe out duplicates on iCloud if you're syncing your photographs there. But before you start cleaning up your photos, make sure you have iCloud Photos turned on:
Step 1: On your iPhone, go to Settings.
Step 2: Tap on iCloud > Photos.
Step 3: Turn on iCloud Photos (if it isn't already).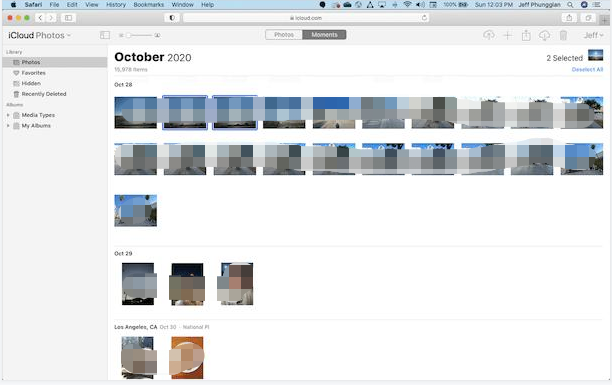 If you haven't previously enabled iCloud Photos, allow your iPhone some time to download all of your photos before opening Photos and starting to delete duplicates and clutter.
Solution 3: Delete Duplicates in Google Photos
Google Photos doesn't have the means to detect identical photos automatically, but its search tool makes it a bit simpler to locate them. Google Photos analyses your photos and assigns labels depending on their content.To find duplicates in Google Photos, follow these steps:
Step 1: On your iPhone, open the Google Photos app.
Step 2: At the bottom, tap Search.
Step 3: Type a phrase like "beach" into the search bar.
Step 4: Hold down the button on the photo(s) you wish to remove.
Step 5: Select Delete from the trash can icon.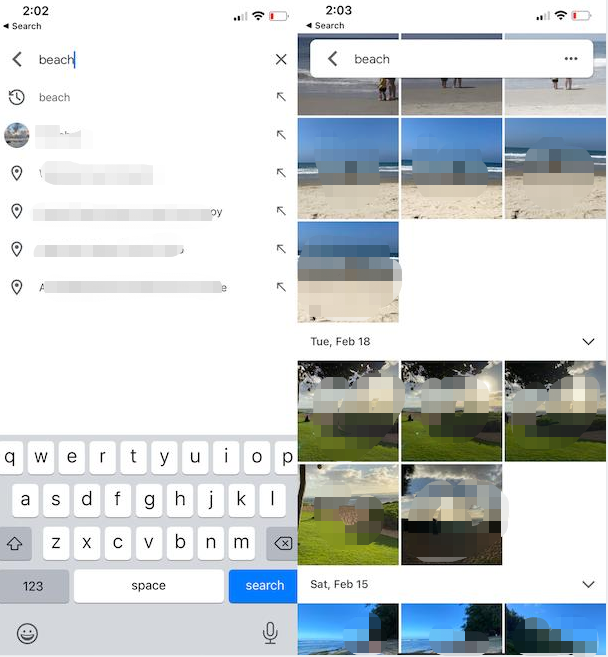 Solution 4: Remove iPhone Duplicated Photos from Computers
Using a duplicate photo finder is another effective way to remove iPhone duplicate photos. 4DDiG Duplicate File Deleter, which uses the MD5 Message-Digest Algorithm, is the best tool for detecting and removing duplicate or similar photos. Furthermore, it can quickly remove bothersome duplicates such as movies, audio, documents, and so on. Simply import iPhone photos to your Windows PC or Mac and then launch 4DDiG Duplicate File Deleter. The following sections describe the tool's features and how to use it to remove duplicate iPhone photos.
Features
Find duplicate photos, videos, audio, documents quickly and with 100% accuracy.
Detect and remove similar images.
In seconds, preview to eliminate duplicate files from Mac/Windows, USB, SD card, and external hard drive!
Organize photographs, movies, audio, documents, and other items to simplify file searching.
Increase performance by freeing up disc space.
Choose which files or folders to include or omit from your search criteria.
Note: 4DDiG Duplicate File deleter cannot detect iPhone, so users need to export iPhone photos to Mac/Windows PC first.
Choose a Folder or Partition to Scan

After you download and install 4DDiG Duplicate File Deleter on your Windows PC, run it and pick a folder or partition where contains iPhone duplicate photos.

Scan to Find Duplicate Photos

Now, Duplicate File Deleter will scan the folder or partition to find duplicate photos based on your search parameters which you can customize when tapping Preference.

Preview to Remove Duplicate Photos

After the scanning, 4DDiG Duplicate File Deleter will list all duplicate files based on your searching criteria. On the left panel, you'll know the quantity and size of each file type. Click the eye icon, you are able to preview the file. After you select target duplicate files (you can also click Auto select), simply click Remove to delete them.
How to Automatically Delete Duplicate Photos in Mac Photos App?
Part 3: How to Deleted Duplicate Photos with Apple's iOS 16?
After couple month testing, Apple finally released iOS 16 on September 12. On iOS 16, apple has launch a new feature call "duplicate detection" which can help to aggregate all of users repetitive shots. But many user report that their duplicate photos not appearing after updating to iOS 16, then what cause this problem and how to remove iOS 16 duplicate photos?
Why Duplicate Photos Not Appearing after Updating to iOS 16?
There are many speculations about duplicate photos not appearing after updating to iOS 16, here we have listing the possible causes that may cause iOS 16 duplicate photos not appearing:
Network problems will lead to photos latency, so it takes some time to find duplicate photos on iOS 16.
Photos that were duplicates were combined, so iOS can't detect duplicate photos.
System error may also cause your iOS 16 duplicate photos not appearing.
iPhone low on battery will also cause the iOS 16 duplicate photos not appear.
How to Remove iOS 16 Duplicate Photos?
First try to charge your iPhone and restart it, make sure the network connecting is working. If these method still can't fix duplicate photos show on iOS 16, then here you can use the help of 4DDiG Duplicate File Deleter. 4DDiG duplicate File Deleter is a powerful duplicate files and similar images removal software which can one-click to move duplicates to Recycle Bin or permanently delete them.
What users like about 4DDiG Duplicate File Deleter:
Find duplicate files quickly and accurately.
Preview to quickly delete duplicate files from Windows, Mac, USB, SD card, and external hard drive!
Keep documents, audio files, images, videos, and other types of files organized, and enhance file searches.
Performance improvement and disk space liberation.
Free removal of 15 duplicate files as part of a special offer.
Free download 4DDiG Duplicate File Deleter and then launch it on your Mac/Windows, then you can transfer the duplicate photos on iOS 16 to your computer. Now choose the location of where the duplicate photos store.
Now 4DDiG Duplicate Deleter will scan and find the duplicate photos.
After scanning, you can preview the scanned out duplicate photos. To remove duplicate photos, just select the duplicates that you want to remove and click remove to delete them.

Now the duplicate photos that are not appear on iOS 16 will be successfully removed.
Part 4: How to Prevent Duplicate Photos on iPhone?
Now, how can you keep your iPhone from having duplicate photos? Here are several options for preventing duplicating images on your iPhone:
Only use one method to sync your photographs. We may now sync photographs between our devices in two ways. These options include utilizing iCloud Photos and connecting to the PC via a USB connection. If you use one of the methods, you must only use that method.
Turn off third-party programs that download automatically, such as WhatsApp. Some apps will automatically download your photos and videos to your phone. WhatsApp is one of these applications. If you save an image or video you send frequently, you'll wind up with many copies in your Photos app.
At the same time, move or transfer all of your images from an external camera device. Please relocate or transfer your images from an external camera as soon as possible. Why? It is possible to lose track of which photographs have been transferred and which have not been transferred. As a result, it might be the source of duplicate photographs.
If you have iCloud Photos switched on, do not utilize AirDrop. If you have Apple devices with iCloud Photographs switched on, don't use AirDrop to transfer photos between them. It may result in the photographs being duplicated.
Duplicate Photo FAQs
1. Can iPhone detect duplicate photos?
Unfortunately, the iPhone lacks this capability. On iPhone, you may go through your picture collection and erase duplicate photographs.
2. How do I remove duplicate photos?
Follow the solutions mentioned above to remove duplicate photos from your iPhone.
3.What is the best duplicate photo remover for iPhone?
4DDiG Duplicate File Deleter is the most exemplary duplicate photo remover for iPhones. Simply import your iPhone photos to Windows PC and this tool can instantly find duplicate or similar images for you.
4.Does iCloud recognize duplicate photos?
If you try to sync the same photo from several devices, iCloud will flag it as a duplicate. However, if you have duplicates of the photo on your iPhone, iCloud will upload both versions.
Summary
Taking images using the iPhone camera is enjoyable and straightforward. Dealing with how to delete duplicate photos on iPhone for free, on the other hand, maybe a pain. Hopefully, this post has helped you find out faster ways to clear things up so you can get back to enjoying all of your iPhone's memories. If your iPhone images are a jumble, you may use 4DDiG Duplicate File Deleter to arrange your photo collection quickly.