Question

"A few days back I permanently deleted some important files and folders by mistake. I checked the recycle bin but couldn't find them. Are there any methods or professional data recovery software that can help me recover deleted files from hard drive?"
Data loss is an inevitable part of owning a PC. It will happen sooner or later, by mistake or due to factors not under your control. The essential thing is to know what to do when it happens. Lamenting data loss is not a solution, learning how to find deleted files on hard drive is. This is what this article is about to tackle. This article is a detailed, systematic guide on how you can utilize your computer capabilities and third-party apps to recover deleted files from hard drive windows 10 in no time. So let's dive right into what you should and should not do when you are faced with a data loss crisis.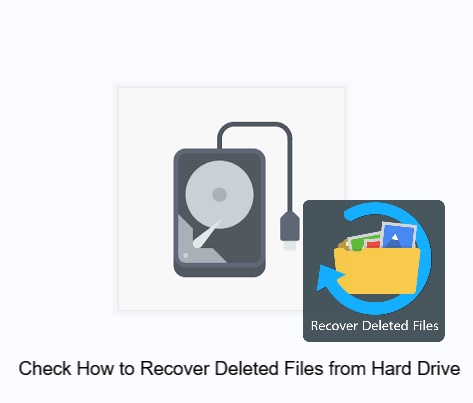 How to Recover Data from External Hard Drive in 3 Ways?
Part 1: Is it possible to Recover Deleted Files from the Hard Drive?
There are various ways in which you can delete your file. One wherein you simply delete it by pressing the delete button. The second is when you permanently delete it by pressing the Shift + Delete button or by other methods. In the former scenario, you can simply recover the files using the recycle bin. The latter scenario is where you have to up your game and try a lot of different things to get your data back. So, the important question here is not whether it is possible, rather the important question is how to recover deleted files from hard drive because recovering deleted files is absolutely possible and by the end of this guide you will know how.
Part 2: How to Recover Deleted Files from Hard Disk?
Coming to the meat of the matter, in this section, we will go through 4 solid fixes you can employ to get your deleted data back. Don't be disheartened if a particular fix doesn't work for you, just move on to the next one. Now, let's have a look at solutions one by one.
Solution 1: Check the Recycle Bin
The Recycle bin is one of those features on your Windows that you do not notice regularly, but one which can help you find deleted files on hard drive. If you have not permanently deleted the files then searching the recycle bin is the first thing that you should do. All you have to do is to open the recycle bin and search for your files. Once you find them, simply select them and click on restore. That's it, your files are now safe and recovered.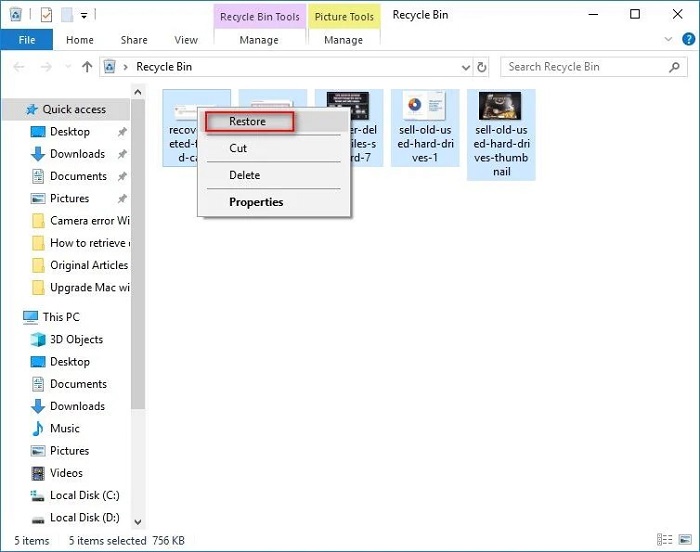 Solution 2: Find Deleted Files on Hard Drive from Previous Versions
Windows is loaded with valuable features which most of us are not aware of. One such amazing feature is the ability to restore a particular folder to its previous version. This feature can be used to restore deleted files from hard drive with ease, here's how.
Step 1: Locate the folder from which the file was deleted. Right-click on the folder and click on the "Restore Previous Versions" option from the menu.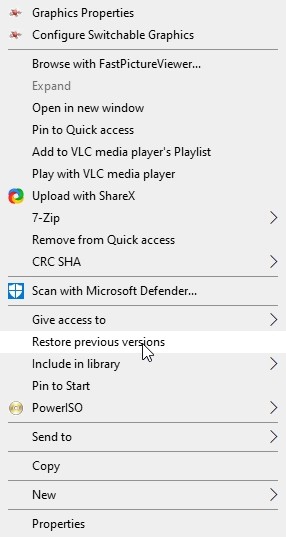 Step 2: From the list of available previous versions that now show up on your screen, select the one which is dated before you deleted the files and select it.
Step 3: Restore the folder by clicking on the restore button and clicking OK. Your folder will now be restored to a previous version.
If this successfully answers your question of how to recover deleted file from hard disk, then great, if not, head on over to the next fix.
Solution 3: Restore Deleted Files from Backup
Backing up your data from time to time is a great habit and can get you out of countless situations like these. So if you are amongst the people who regularly backup their data, congrats, because the road of recovery just got a lot easier for you. Back-ups are of different forms. Backups can be local or cloud-based. Local backups exist in the form of external drives which can be plugged into the PC to recover files. You can also use the Windows backup to bring back files, here's how.
Step 1: Open "Control Panel" on your device and go to the "System and Security" options. In System and security select "Backup and Restore".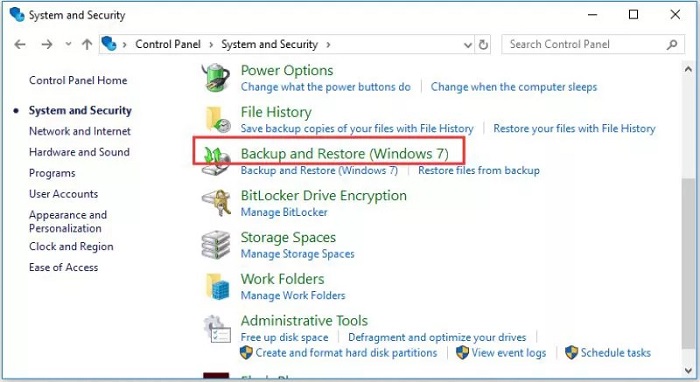 Step 2: Once in the "Backup and Restore" window, select the "Restore my files" option.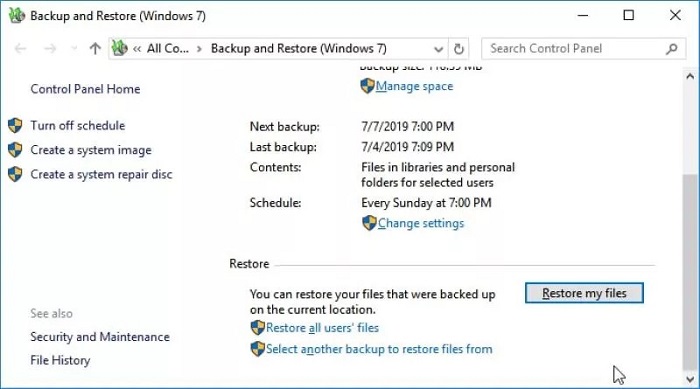 Step 3: Backups created by you will now be shown. You can choose a specific backup or handpick a folder or file that you want to restore.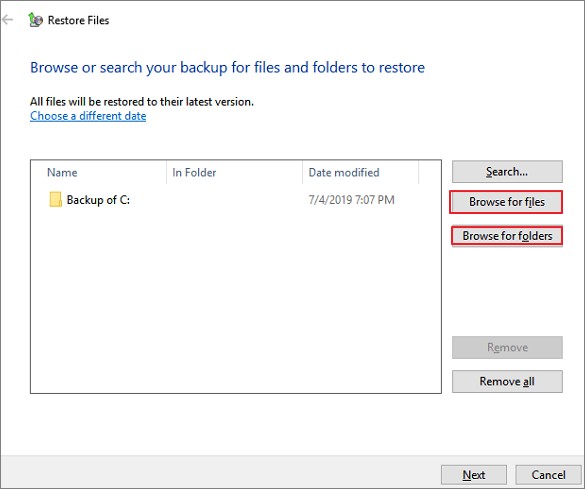 Solution 4: Third-party Hard Drive Recovery Software
If none of the above methods adequately answer the question of how to recover deleted data from hard drive, then it's time to go professional. You can reach out to local data recovery centers that can cater to your needs. Manual data recovery stores are well equipped to handle your data loss crisis. However, in these dire times of COVID-19, going out to get your data back can pose a significant health risk, especially for susceptible people. Keeping that in mind we have made professional help available at home in the form of the Tenorshare 4DDiG. 4DDiG is an all-in-one asset that ensures complete data recovery with better accuracy and speed than all of its competitors. Still not convinced? Here are some of its astonishing features that will surely win you over.
Recovers lost files due to any Windows error or crash
Equipped with the latest modern algorithm that makes data recovery accurate and fast.
Recovery of data from anywhere ranging from Local & External Disks, Lost Partitions, But locker Encrypted devices to Recycle Bin, Crashed PCs, etc.
4DDiG supports the recovery of 1000+ files types.
Smooth interface with features that makes things less complicated.
Free of viruses, malware, pop-ups, or adware.
Now let's see how you can actually use 4DDiG data recovery when files are deleted from a hard drive.
Launch the 4DDiG app and from the menu of drives and storages displayed on the screen select the drive from where your files were deleted. Click on 'Scan' to start scanning.
The scanning will now start and the recovered files will be shown one by one. You can preview these files and choose the ones you want to keep.
Once all files are recovered, select the ones you want to keep and click on 'Recover'. Choose a location on your PC and save the recovered files. And Voila! Your data is now back on your device.
Part 3: Pro Tips for Recovering Deleted Data from Hard Drive
Tip 1: How to Recover Permanently Deleted Files Windows 10?
Before trying to retrieve deleted files from hard drive by other means make sure you check your recycle bin thoroughly. If you can find the deleted files in the bin, recover them, if not use professional data recovery software like the Tenorshare 4DDiG data recovery.
Tip 2: What to do after Deleting Files?
If you have deleted some files by mistake it's advisable to not write any more data in that drive so that complete and accurate data recovery can happen.
Conclusion
Answering a question like how to retrieve deleted files from hard drive is never easy but we have tried our 100% to make it possible. Not only does this guide offer all-around solutions to your data loss problems but it also leaves you with Tenorshare 4DDiG that you can use for any data loss related issues. So next time when any such error pops up, just sit back, run 4DDiG, and let the app do the magic.