Did you accidentally stumble across an old hard drive from one of your previous computers? Are you curious to know what's on the hard drive and want to access its files on your new system? If the answer is yes, you've come to the right place. Having an old hard drive is common for many tech geeks. Unfortunately, you can't directly plug one of your conventional hard drives into modern computers due to varying hardware architecture. But, that doesn't mean you can't recover files from an old hard drive. In this brief guide, we'll discuss the best ways to retrieve data from your old-school internal hard drives without having to deal with any data loss whatsoever. So, grab your old hard drive, and let's get started.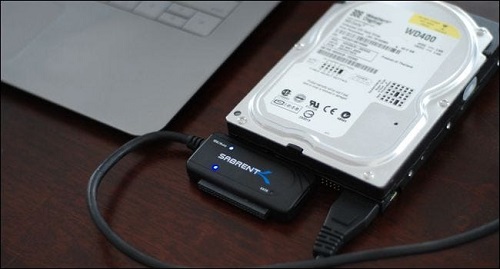 Part 1: The Steps to Access Old Hard Drive without Putting It in a PC
Now, to move data from an old hard drive to a PC, you'll first have to connect the former to the system. As we mentioned earlier, there's no direct way to establish this connection as many modern systems lack the required ports. In this situation, you have two different options to choose from. You can either buy a full enclosure and turn your old internal hard drive into a modern-day external drive or use a dock station to keep things simple.
Now, choosing the right method to get files off an old hard drive will primarily depend on your personal requirements. If you only have a single hard drive, you can simply use a full enclosure to convert it to an external hard drive. But, if you want to transfer data from multiple old hard drives, using a dock station would be a more feasible option as it'll allow you to connect multiple hard drives one by one and transfer all your data in a hassle-free manner.
You can find full enclosures and dock stations on Amazon and other marketplaces. Full enclosure cases usually cost around $10-$20, whereas the latter costs nearly $40-$60. If we talk about the disadvantages of these two gadgets, dock stations do not have too many demerits except for their price. But, in the case of full-enclosures, assembling the hard drive inside the case will be the biggest challenge for you as you'll have to configure multiple connections correctly.
So, choose the ideal connection method and connect your old hard drive to the system. Then, follow these steps to get data off an old hard drive on your modern-day computer.
Step 1: As soon as the hard drive is successfully connected to the system, a pop-up will appear on your screen. Here, click on "Open Folder to View Files".
Step 2: The "File Explorer" window will open on your screen with the current location of the hard drive. From here, you can simply copy the desired files and move them to any folder you want easily.
So, that's how to retrieve files from an old hard drive using full enclosures and dock stations.
Part 2: How to Recover Lost Data from Old Hard Drive?
It's worth pointing out that working with old internal hard drives is always a bit tricky. Why? Because data loss is quite common on relatively older hard drives, especially if you haven't used them in a while. If you are stuck with a similar hard drive with no signs of your files, we recommend using Tenorshare 4DDiGWindows data recovery.
It's a feature-rich data recovery solution designed to retrieve accidentally deleted or lost files on a Windows system. Apart from Windows'internal hard drives, you can also connect an external storage device and recover data from it. One of the key features of 4DDiG Windows data recovery is that it supports 1000+ file formats. So, whether you have lost a few family pictures or your personal documents, 4DDiG Windows data recovery will allow you to get them back without any hassle.
Some of the key features of 4DDiG Windows data recovery that make it the most reliable data recovery solution include:
Recover data from internal, external hard drives as well as other storage devices like SD cards and USB drives.
Supports 1000+ file formats, allowing users to recover anything they want.
Recover data in different situations, be it accidental deletion or lost partition.
Recover files even from a crashed Windows system.
So, here's the detailed step-by-step procedure to recover deleted files from your old hard drive using 4DDiG Windows data recovery.
Using the docking station or full enclosure case, connect your old hard drive to the computer to get started. Then, install 4DDiG Windows data recovery on your system and launch the application. On its home screen, choose the old hard drive and then click Scan to proceed
The tool will automatically start scanning the hard drive and display a list of all the deleted files on your screen. Based on the overall size of the hard drive, this scanning process may take several minutes to complete.
After the scan completes, all you have to do is select the files that you would like to recover and tap the "Recover" button at the bottom-right corner of the screen to restore them to your system. You can also tap the "Preview" button to check a preview of each file before restoring it.
That's it. 4DDiG Windows data recovery will automatically restore all these files to the selected location.
Conclusion
Dealing with old hard drives can often become nerve-wracking, especially if they've been eating the dust for several years. But, with gadgets like docking stations and full enclosure cases, you can easily connect these old hard drives to a Windows system and get data off an old hard drive. And, in case you are dealing with a corrupt hard drive that has led to data loss, simply install Tenorshare 4DDiG Windows data recovery on your computer and use it to retrieve deleted files.