Many Windows 10/11 users face a frustrating issue when playing any sound; they keep getting "Generic Audio Driver Detected". Unlike most other windows errors, diagnosing this error is a bit tricky. Windows Update mainly causes sound problems. Another major cause of sound problems is driver ageing, missing, or flaws. Software clashes and Windows service crashes also cause audio issues. If you are experiencing audio issues, the first and most crucial step is to troubleshoot your audio. Windows has built-in troubleshooting capabilities that look for common bugs and errors and try to fix them automatically. Ironically, however, troubleshooting does not have solutions to all problems. One of the unfixed bugs is a common issue with sound manager drivers. This trouble-shooter can detect the sound issue, but it cannot resolve it. But don't worry. This article presents some of the simplest and most effective solutions on how to fix generic audio driver detected in Windows 10/11. Before proceeding, I would like to explain what exactly the Generic Audio Driver is.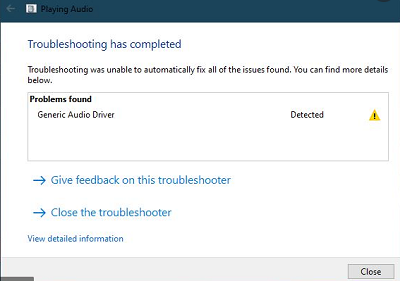 How to Fix Generic Audio Driver Detected in Windows 10/11?
Part 1: What is a Generic Audio Driver?
Drivers are the software that the various devices on your Windows computer, such as sound and graphics cards, need to function correctly. Without these drivers, most of your computer functions will fail. So generic audio drivers are one kind of drivers that are used to get audio output from your computer.
Part 2: What Does Generic Audio Driver Detected Mean?
Generic Audio Driver Detected is the error that fixes display problems when it detects an audio issue in your computer system. When you select the audio error, a generic audio driver detection message will appear stating that the audio device is not responding to the command from your computer system. It is pretty common to run into this problem because it is too generic.
The generic audio driver seems persistent, it's really difficult to diagnose, and that's the worst part of this problem. This is a common problem for everyone, and you may want to know how to fix the generic audio driver detected. However, you can easily find some of the simple but effective ways that can solve this problem for a lot of Windows PC users. Read on for various ways to fix the generic audio driver issue easily.
Part 3: How to Fix Generic Audio Driver Detected in Windows 10/11?
In this part, we have mentioned some of the quick and easy methods to troubleshoot the generic audio driver and fix it. Troubleshooting is the best way to find the cause of any problem with your computer system. For example, issues such as cannot respond, printing offline, unidentified network, etc. can be detected. Below are some of the solutions that you can consider to solve the audio problem.
Method 1: Make Sure Audio Services are Enabled
One of the leading causes of the problems detected by the generic audio driver is when the audio services are disabled. Therefore, before taking any action regarding this issue, first, check the status of your computer's audio services. The following are the steps to help you do so.
Step 1: Press the Windows + R key combination to open a 'Barnyard' dialog window.
Step 2: In the box, type services.msc and click OK to run the process.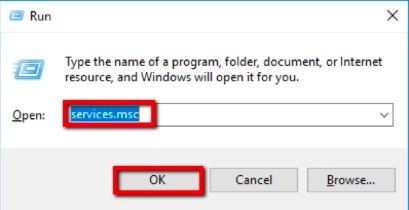 Step 3: In a Services window, scroll down and look for Windows Audio Terminal Generator and check if their status is indicated as Running. If not, right-click on each option and choose Start.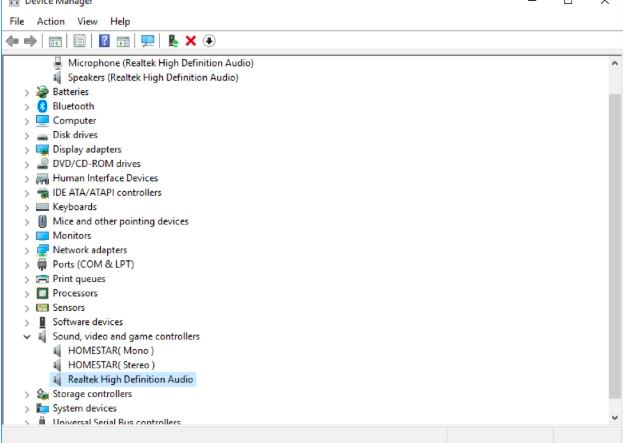 Step 4: Click on both options and change the Startup Type section to Automatic.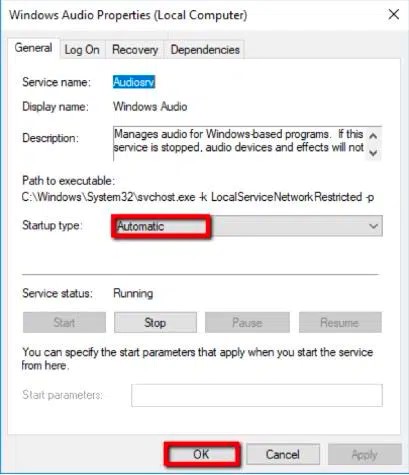 Step 5: Finally, you need to save the changes by clicking on the OK button. Check if your audio services are working fine.
Method 2: Try Disabling and Enabling the Audio Device
You can fix the error caused by the program conflict by restarting the audio device. As you know, audio devices can be used in a variety of applications. If multiple programs request audio output at the same time, the controller will not work. Disabling and activating the audio device clears the problem.
Step 1: Right-click the Windows logo on the taskbar and select Run as soon as the Power User menu appears to launch the Run dialog box.
Step 2: When Run appears, type devmgmt.msc and press Enter on your keyboard.
Step 3: When Device Manager opens, search for audio, video, and game controllers and click the arrow next to it. You will be able to see the audio device.
Step 4: Right-click the active audio device and click Disable Device on the context menu. Do the same if there are other audio device entries in the menu.
Step 5: Then right-click on the device again, this time selecting Activate Device from the context menu. Remember the same for other audio devices.
Step 6: After that, restart your computer and see if the problem goes away.
Method 3: Uninstall and Reinstall Your Audio Driver
In case the above method does not fix the generic audio driver detected issue, consider reinstalling the audio driver. The following steps will guide you to reinstall your audio driver.
Step 1: Go to the Start menu and look for Device Manager on the taskbar. You need to select the first option that will match your search.
Step 2: In the Management Manager, right click on the window Screwdriver option and then select Uninstall device. Follow the same process for all divers that have faults.
Step 3: After uninstalling Screwdriver from your computer system, restart your computer.
Step 4: Again, go to Device Manager and right-click on your computer's name at the top left of the window. Now, click on Scan for hardware changes and wait patiently for the driver reinstallation.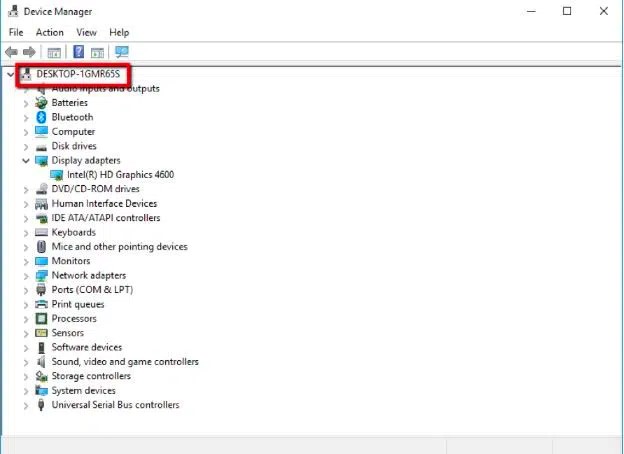 Method 4: Update Your Audio Drivers
An outdated version of our sound card drivers can be the cause of audio problems in the system. Therefore, it is always advisable to try to update the drivers of our card or uninstall and reinstall them to see if everything returns to normal.
To do this, we open the Windows 10/11 Device Manager, something you can do quickly from the Win + X menu, you look for the option Sound and video controllers and game devices and click with the right mouse button on your sound card blink to access its Properties.
Now, you select the Driver tab and click on the Update driver button. If your Windows 10/11 computer is unable to find a new driver, try to find it on the manufacturer's website. When you find it, just follow the instructions to install it.
Method 5: Turn Off Audio Enhancements
Automatic upgrade improves sound cards and increases sound quality. However, it sometimes creates a problem for the audio device and interferes with your program, causing a generic error detected in the audio driver. The following are the steps to help you disable automatic enhancement.
Step 1: Once again, open the Corral dialog box and type Control in the box.
Step 2: In the Control Panel locate the Sound Isolation and right click on it. Now click on the Properties option.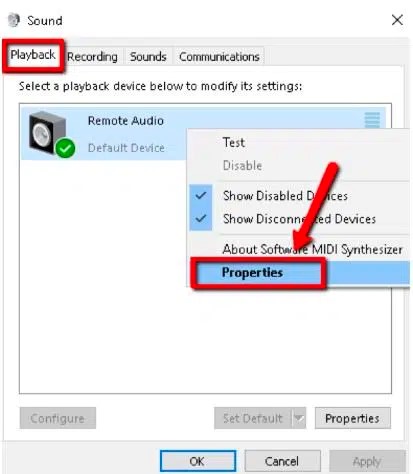 Step 3: In the Properties window, click on Enhancements and click on the Turn off all sound effects box to check it. Click OK to save the changes.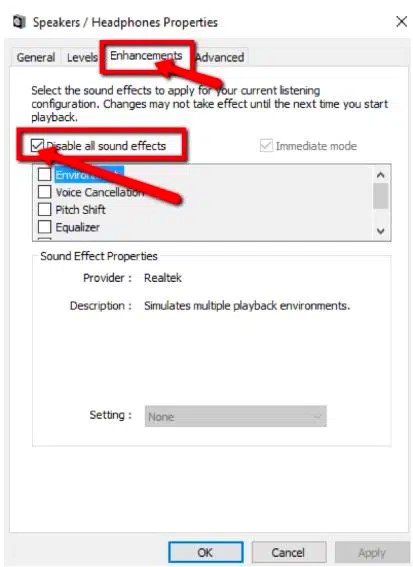 Method 6: Use Windows' native Sound Drivers
If you see that none of the fixes above worked for you, this one might help. Windows 10/11 has some basic drivers available to its users and in situations like this we can test if these drivers work instead of the drivers provided by the manufacturer.
Step 1: Open Device Manager. See Step 1 and 2 of Method 2 from above.
Step 2: You need to scroll down and find an option that says Sound, video and game controllers.
Step 3: Double - click on Sound, video and game controllers to expand the selection. Now you need to Right-click on the sound device that has the problem and select the Update Driver option.
Part 4: How to Recover Lost Data in Windows 10/11?
If you have read till here, then we have a little bonus part for you. If you want to recover any data that you lost in Windows 10/11 then keep reading as we talk about extraordinary data recovery software.
Tenorshare 4DDiG Data Recovery can easily recover formatted, deleted or lost data from the computer or an SD card. Recover lost data from common locations such as desktop, Trash, selected folders, etc. It also recovers devices and drives in a variety of situations, including accidental deletion, emptying the Trash, locking your system, and getting infected with malware. The following guide describes the process of recovering data from local drives, lost partitions, external devices, and locked computers. Download now and install 4DDiG-Windows Data Recovery on your computer to start your journey.
You can absolutely recover files from a failed hard drive. If your local disk is corrupted, or if you stop working on important folders stored on your local disk, here are some specific guides to recover your data.
Step 1:

Select a local disk

After installing and launching the software, you will see all the devices and drives of your computer are listed in the homepage. In this case, select the lost local disk from the list of drives and click Start to continue.

Step 2:

Scan your hard drive

4DDiG instantly scans the selected hard drive for lost data. It will continue to detect deleted files from your selected drive, so it will provide a tree view and a list of scanned items based on the file view. There is a progress bar that shows the amount achieved. If you find the files you want to recover, you can pause or stop the scan at any time.

Then you can see the scan results, which shows the number of files that were successfully detected. If you can't find the lost data, you can click Deep Scan at the bottom of the interface to recover the deleted files. This can take some time.

Step 3:

Preview and recover lost data

4DDiG supports preview and recovery of various types of files such as photos, videos, audios, documents and more. You can select the desired files based on category, Preview to get more information and click Recover to recover files.

Congrats! Files that were accidentally deleted from the lost partition have been restored and you can now view them. Do not save the files to the same partition in case your data is lost permanently.
Part 5: FAQs about Generic Audio Driver
1. Where do I find my generic audio driver?
Here is how you can find your generic audio driver:
Step 1: Open Device Manager by typing in the search box and press Enter.
Step 2: Now you need to click on the drop-down arrow to expand and locate the sound driver.
Step 3: Then right-click from your mouse on the installed driver and select Properties.
Step 4: Finally select the Driver tab that is below the display driver properties window.
2. How do I change my audio driver to generic?
To change your audio driver to generic, you need to:
Step 1: Simply take the cursor of your mouse over and right-click on the sound icon in your system tray. Then select the Playback Devices option.
Step 2: Now you need to check which device is the default from the Playback tab. Then, set it to default after right-clicking on it.
3. Why do I have a generic audio driver?
To simply put it, the "Generic Audio Driver Detected" issue is an error message. You will get this message on the Windows Troubleshooter window when your computer is facing issues with the sound or audio system. If you are trying to troubleshoot Windows audio errors, and find this issue, then it means that the sound devices are not responding well.
4. How do I fix play sound using generic Microsoft HD audio driver?
You need to update your audio drivers or simply uninstall and reinstall them to fix play sound using generic Microsoft HD audio driver.
Conclusion:
Generic Audio Driver Detected is resolved in the simple way shown in this blog post. Users can perform these steps themselves without the help of an expert. We recommend that you use 4DDiG Data Recovery to get back the access to your lost data in Windows 10/11. Tenorshare 4DDiG Data Recovery Software is recommended by technical experts from all around the globe. We hope this article will help you solve some common audio driver problems in Windows 10/11. To make this post more useful, please let us know what you think about this post. Your suggestions and comments are welcome in the comments section below.