How do I recover deleted videos from DJI? This is the question every DJI drone user asks when their precious videos are deleted. In aerial photography, DJI drone cameras are a stunning piece of equipment that produces an unparalleled quality of videos and photos. However, even the most advanced technology can fail sometimes. Just like that, when it comes to the storage drive of a DJI drone, many things can result in permanent data loss. Don't feel disheartened if you are facing a scenario where you've lost your DJI drone's video files, don't feel disheartened. You can easily recover deleted videos from DJI. In this article, we'll explain the reasons behind file deletion in DJI drones, some tips to avoid data loss, and reliable fixes to recover it. So, without further ado, read the methods below.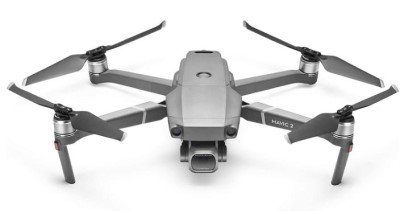 Part 1: Overview of DJI Video Recovery
What Cause DJI Files to Get Lost?
Like any other SD card, the DJI drone camera SD card is also prone to video file loss due to corruption, deletion, and formatting. Generally, there are several reasons for that loss. We've listed them below:
Physical Incident

Due to technical or mechanical faults, your drone can crash, damaging its software or hardware and leading to lost video files. Sometimes you can fix the damage, while other times, it is permanent.

Formatted SD Card

If you've accidentally or intentionally formatted your DJI camera's memory or SD card, it will wipe out all saved data, including video files.

Mishandling

It is recommended to eject your camera's SD card properly before and after connecting it to the DJI drone. Mishandling the memory card can result in corrupt files or complete data loss.

Crashed System

If you don't operate your drone with care, such as switching it on and off too often can lead to malfunction. Ultimately, this will result in deleted or corrupted video files.

Virus Attack

Any virus attack affecting the OS of your DJI drone will result in data loss. If you are not careful, viruses or malware can enter the drone's OS through its external SD card, deleting or corrupting video files.
Which Video Format DJI Uses for Video Files
Learning which video encoding and file formats DJI uses to save video files is crucial. So you can use a recovery program that supports them. The DJI drone camera employs H.264 video encoding, 10-bit D'Cinelike format, and supports both MP4 and MOV video types.
Which Memory Cards Are Used by DJI Drones
In general, DJI drones come with an inbuilt 8GB of memory and an option to insert an SD card to increase storage memory. You can use any memory card capacity in the drone according to your storage requirements but make sure the card is from a renowned brand. Memory cards with less than 32 GB of storage use the Ex-Fat file system, while those with more than 32GB of storage use the Fat32 file system.
Part 2: How to Recover Deleted Videos From DJI?
Here we have listed the most feasible fixes that have proven to work for recovering deleted videos from DJI drone cameras. Check them out:
Fix 1: 3 Steps to Restore Deleted Videos From DJI With 4DDiG
The best way to restore DJI video is through the best DJI video recovery tool, which provides an instant recovery in just three easy steps. You can expect this tool to recover deleted, corrupted, hidden, and formatted photos, audio, video, and documents with a high recovery rate. It can retrieve data from your DJI drone camera's internal and external memory, even if it is permanently gone.
Some of the remarkable features of 4DDiG include the following:
Recover videos rapidly in just three simple steps.
Restore deleted, corrupted, formatted, and hidden videos without compromising their quality.
Support video file recovery from internal memory, SD cards, USBs, hard drives, and digital cameras.
Recover 1000+ file formats, including DJI-supported MOV and MP4 files.
Smart recovery with a high success rate.
Here's how to recover deleted videos from DJI using the 4DDiG tool:
Connect your DJI SD card to your PC. Download and launch the 4DDiG tool and choose the SD card to scan.
You can choose your target file types from the option mentioned in the top-right corner. Once you do that, hit "Start." The scan will begin looking for deleted DJI videos.
Once the scanning job is done, preview the recovered files. Press "Recover" to save them in a drive other than the SD card where you lost them. You can also preview files and their details by pausing the scan.
Fix 2: Retrieve DJI Files With DJI Go App
You can recover DJI videos with the help of the DJI Go app. It works for both Android and iOs. If you already use the app to record DJI flights, all your videos will automatically transfer to the app on your mobile or tablet. So in case you lost the DJI recordings, you can recover their backup from the app. But this method will only work if you've activated the video cache during shooting.
Step 1: Click on "Settings" in the DJI Go app.
Step 2: Press "Video Cache."
Step 3: Choose "Editor" at the bottom display. You will see all your recent videos.
Fix 3: Run CHKDSK to Recover DJI Videos
Another way for DJI file recovery is through CHKDSK, a system utility for identifying and repairing critical drive errors. If your DJI drone camera's SD card is corrupted, CHDSK is a reliable utility to repair and recover DJI videos from external drives.
Step 1: Connect your DJI's SD card to your PC.
Step 2: Type "cmd" in the menu search bar. It will bring up "Command Prompt."
Step 3: Open "Command Prompt." Run it as Administrator. Enter "CHKDSK e: / h." "h" is the drive letter, so that you can replace it with the letter of your DJI drive.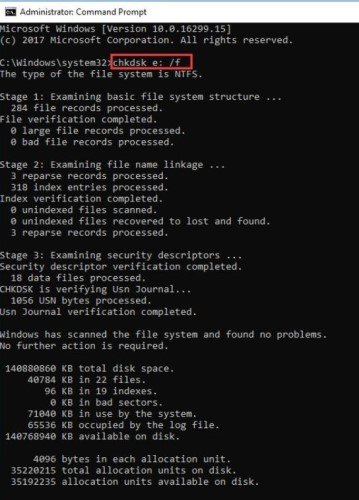 5.The "CHKDSK" will scan and fix the SD card of your DJI drone camera. So you will be able to recover the videos.
Fix 4: Uninstall the Driver and Install It Again
In some situations, your PC may not recognize your DJI camera's SD card because of an issue with an SD driver. So, for DJI video recovery, try uninstalling and reinstalling that particular driver.
Step 1: Open "My Computer." Choose "Device Manager."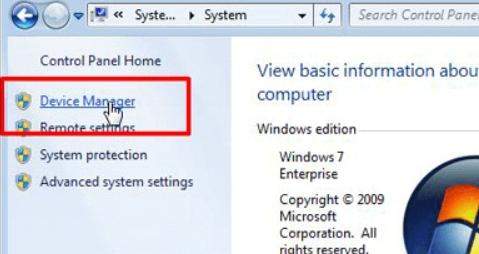 Step 2: Next, double-click on the "Disk drives." Then right-click on the DJI SD card driver you want to uninstall and reinstall and choose "Uninstall."
Step 3: Eject your SD card and restart your PC. After that connect the DJI SD card again and reinstall the driver.
Part 3: How to Prevent File Loss on DJI?
Data loss can be unexpected. But the loss can be unbearable if the precious videos you strived for many hours to shoot with your DJI drone are deleted or corrupted. Therefore, take some preventative steps to avoid data loss in the future.
Regularly, create a backup of your DJI camera's SD card to restore files if data is lost from the memory card.
Use the DJI Go App to record your drone's flight logs.
Never download any file on your DJI camera's SD card from an unreliable source.
Switch off the drone before replacing or removing the memory card.
Leave at least 20% of free storage space in your SD card.
Don't record any video if there is insufficient space in your memory card.
Bonus Tip: How to Fix Corrupt DJI Drone Files?
If you have successfully recovered the DJI drone files using data recovery software but find that they are still not working or are partially damaged, you can follow the video tutorial below to further fix the corrupt DJI drone files.
DJI Video Recovery FAQS:
Q1: Where Are DJI Videos Stored?
DJI videos are stored in the internal memory and external drives. However, the inbuilt memory only provides 8GB of storage. So, you'll have to add an external drive like an SD card, DJI CINESSD, LaCie DJI Copilot, or use a cloud-based repository to store video files.
Q2: How Do I Repair Corrupted DJI Video Files?
Use CHKDSK to repair files. Or, if you have a DJI Go app backup, you can recover your recent videos from the app. However, if both these fixes don't work for you, try Tenorshare 4DDiG Recovery tool to repair and recover corrupted DJI videos. It can recover all popular file formats and supports all kinds of storage devices.
Q3: How Do I Recover Deleted Videos From DJI App?
You can restore deleted videos from DJI if you are used to keeping flight logs on the DJI Go app. Here's how to do that: Click on "Settings" in the DJI Go app, then press "Video Cache." And now choose "Editor" at the bottom display. You will see all your recent videos.
Q4: What Are the Best DJI Video File Formats?
DJI supports both MOV and MP4 video file formats. But which is the best format to save videos depends on where you want to view or play them.
MOV:
Saves videos of high quality.
Supports high resolution and multiple data bits.
Supports various devices and players, including Apple QuickTime 6 and later.
Enhances old audio container format by using Apple's AAC and AVC technology.
Provides excellent storage flexibility.
MP4:
Supports media players like Windows Media, QuickTime, and Real Players.
Saves and shares high-quality video files.
The MOV file size varies based on the compression procedure used.
Final Thoughts
Like in all digital equipment with storage, video file loss is also common in DJI drone cameras. But it's possible to recover deleted videos from DJI. Use the methods mentioned above in our post. However, each technique comes with some limitations, except for the Tenorshare 4DDiG data recovery software. It is the most effective, easiest, and quickest method to recover permanently deleted DJI videos. You don't require training or command lines to use that tool. Besides, it will restore the video files without sacrificing their quality.