Question

"When I turn on my laptop today, I just got an error from Intel Repid Storage, showing me that the laptop may fail and I need to take a backup. Even I tried to run boot time diagnostic and it still give the following message:

Error Code 0151.

Msg: Error Code 2000-0151

Msg: Hard Drive 1 - incorrect status: 3E No additional sense information

The given error code and message can be used by Technical Support to help diagnose the problem. Do you want to continue testing?

Please help me whether my HD need to be replaced or something wrong with my laptop.

-Question from Dell Community
If you are a Dell computer user, when you try to boot your PC, you might get the dell support assist error code 2000-0151. Without any confusion, we are here to help you figure out what causes this error, and how to fix it. Even if your hard drive is corrupted due to this error, we can also help you get the data back from your corrupted hard drive. Let's take a look at this Dell Error Code 2000-0151 first.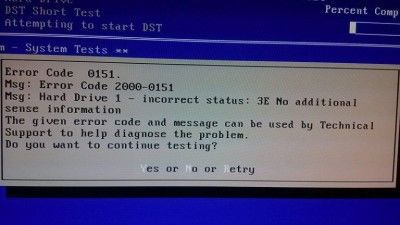 Part 1: Dell Error Code 2000-0151 Summary
During the booting process of a Dell computer, there is a chance you might encounter error 2000-0151 dell. Don't panic whenever this happens, you will find numerous solutions to the error code 2000-0151 in this post. So let's dive right into it.
1.1 What Does Error Code 2000-0151 Means?
The dell error code 2000-0151 is an issue that occurs on Dell PCs. Meanwhile, as a Dell PC user, you would agree that it doesn't happen frequently, but whenever it does happen, then it is likely due to some reasons which include an out-of-order hard drive or an outdated hard drive, not being able to detect the Operating System, among others.
Moreover, when there is an occurrence of dell hard drive error code 2000-0151, what you should have in mind is to first run the diagnostics to check the health status of your hard drive simply because it is after you have known the condition of your hard drive, then you can go for further solutions.
1.2 What Cause Dell Error Code 2000-0151?
The dell error code 2000-0151 is being caused by any of the following:
If while running the diagnostic, then the hard drive fails
It is not user-friendly
If the Basic Input/Output of the system can't recognize the hard drive status
If the data that is related to hardware is not found or has been deleted
Part 2: How to Fix Dell Support Assist Error Code 2000-0151?
There are several ways by which you can fix dell support assist error code 2000-0151. Therefore, follow carefully the various fix method explained below so you can start fixing dell error code 2000-0151 effortlessly:
Fix 1: Check the BIOS Setting
The BIOS Setting can be checked to know if it has been affected. If there is any noticeable change, then don't hesitate to reset it to default settings just by:
Step 1: Rebooting the Dell computer, and ensure you press F12 continuously to have access to BIOS settings while the reboot is in process.
Step 2: The next step is to choose Load Default or any closely related option. Then press Enter to reset the BIOS settings.
Step 3: To make the changes effective, press F10.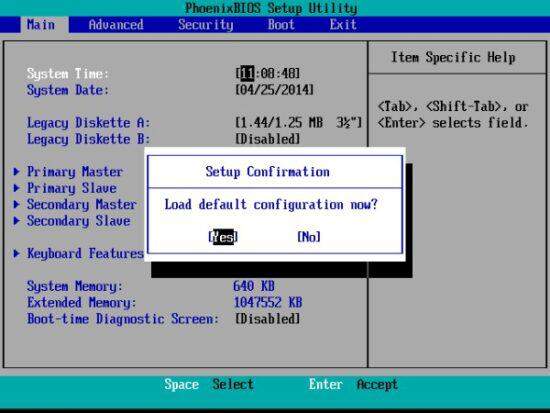 You can then restart your Dell computer to have a look at whether the error code 2000-0151 has been eliminated or not.
Fix 2: Run Command Prompt
Command Prompt which is a Windows built-in helps to fix hard drive-related errors just like the 2000-0151 dell hdd error code. Follow the steps below to fix dell hard drive error code 2000-0151 using the command prompt method:
Step 1: Firstly, make an installation disc through the use of Windows Media Creation Tools.
Step 2: Then connect the installation disc which was made by the use of Windows Media Creation Tools to the Dell computer and boot right from it.
Step 3: After that, choose your language and other likely preferences and click Next.
Step 4: Select Troubleshoot → Advanced Options → Command Prompt.
Step 5: In the Command Prompt window view, input this command chkdsk c: /f /r then press Enter. At this stage, you can replace c in the typed command with the drive letter of the drive that has 2000-0151 dell hd error code which you want to fix.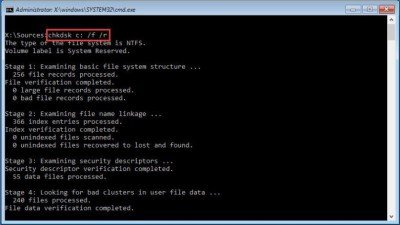 However, don't forget to reboot your computer to see if the displayed dell hard drive error code 2000-0151 has disappeared after executing all the steps.
Fix 3: Run Hardware Test
A hardware test should be run when the hard drive is affected by logical errors which led to the occurrence of dell error code 2000-0151. The steps below should be followed in running a hardware test:
Step 1: Restart your computer, then press F12 repeatedly.
Step 2: The next step is for you to open or launch a one-time boot menu.
Step 3: Then select the run diagnostic option to start the diagnosis course immediately.
Fix 4: Replace the Hard Drive
Recall that an out-of-order hard drive or an outdated hard drive is one of the reasons for encountering the 2000-0151 dell hdd error code. In a situation like this, you should consider replacing the hard drive with a new one after you must have recovered your initial data from the former hard drive , then reinstall the Operating System (OS) which can be downloaded from the Microsoft website, or even make use of a boot disc where you have it when the copy of the Windows system was being bought.
However, if you choose not to reinstall the system on the new hard drive, then you can migrate Operating System to a new hard drive, thereby making the dell hard drive error code 2000-0151 to be discarded from your computer which is being run on the new drive.
Part 3: How to Recover Data from Dell Problematic Hard Drive?
Recovering data from Dell's problematic hard drive is as simple as it is. But after you have followed the above-explained fixing methods and you realized that none of the methods can fix the 2000-0151 dell hdd error code, then that means the hard drive might be corrupted. Oops! What if you haven't backed up the hard drive data before the hard drive got corrupted? Then don't panic because a recommended data recovery software called Tenorshare 4DDiG can be used to restore or recover the previously lost data.
Tenorshare 4DDiG is an all-in-one solution to recover and repair data for all scenarios. Here are some of 4DDiG data recovery software key features:
4DDiG supports data recovery from a laptop or PC, internal drives and external drives, SD card, USB flash drive, and so on
4DDiG supports various different scenarios, be like accidental deletion, corruption, system attack, formatting, lost partition, and so on
4DDiG offer two different version for Windows and Mac users
Within 3 easy click, you are able to get your lost files back
100% safe, no need to worried about data breach
To recover data from dell problematic hard drive, follow the step-by-step guide below:
Firstly, you need to launch Tenorshare 4DDiG Windows Data Recovery on your computer. Then select the hard drive in your computer and locate where you lost data to begin scanning.
Now, Tenorshare 4DDiG immediately examines the drive for missing data. Then you can search for the lost data by checking the various categories under the Tree View or even the File View, and others.
After discovering the location of the target files, the next step is to preview and restore them to a secure location. If there is a situation of permanent data loss or disk overwriting, then avoid saving to the same location where you lost them.
Bottle Line
With the help of this article, the sky is your limit in troubleshooting dell hard drive error code 2000-0151 using the various fix methods explained. Even you can't fix this error due to your dell hdd are already corrupted, we also recommand you a data recovery software known as Tenorshare 4DDiG to help you easily get the non-backup data back from corrupted dell hard drive. There you go!